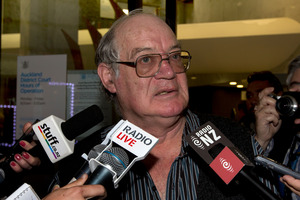 Serial litigant Graham McCready has been told he has no standing in a court room and needs to find a lawyer to fight his private prosecutions.
This morning Mr McCready, dressed in a suit and sneakers, appeared as the lawyer for the NZ Private Prosecution Service in the Wellington District Court to argue a charge of assault against Court of Appeal registrar Clare O'Brien.
But Ms O'Brien's lawyer, John Billington, QC, argued that Mr McCready had no standing as a lawyer and was not fit to stand in the court room. He further questioned his ability "to conduct the case responsibly".
Mr McCready initially argued that four previous District Court judges and a High Court judge had accepted his standing in a courtroom, but when questioned by Judge Max Courtney, he said his standing had never been formally challenged.
Under the law, the informant in a private prosecution -- in this case the NZPPS -- has to either represent him/herself, or be represented by a lawyer.
Mr McCready, who called himself an agent of the NZPPS, eventually said he would prefer it if he had no status in the courtroom. He said there would be lawyers from the John Banks trial that would be interested in taking up the case, referring to his earlier prosecution that eventually lead to Mr Banks being found guilty over the filing of campaign donations.
The case against Ms O'Brien relates to an incident last September outside the Wellington Court of Appeal. Richard Creser, the director and sole shareholder of the NZPPS, was serving Ms O'Brien with papers. He was convicted of assault for his part in the incident, though Mr McCready said he would appeal.
According to court documents, Ms O'Brien, a former police officer, placed her palm on Creser's shoulder or upper chest and tried and move him from the doorway as she tried to re-enter the court building.
Mr McCready tried to transfer the assault charge to the Auckland District Court, where he said he intended to lay further charges, including one against Prime Minister John Key for allegedly instructing police to arrest Creser.
He had not filed any applications in the Auckland yet, but intended to do so next week.
Mr Billington questioned the validity of the intended charges, including those of conspiracy, perjury, aggravated assault, and further conspiracy involving Mr Key.
"It has a rather 'Alice in Wonderland' appearance to it."
Judge Courtney was to consider today whether the assault charge should be dismissed for insufficient evidence or because it is vexatious. That matter would now be considered once the NZPPS had proper legal representation.
He adjourned the case until August 4, to be heard in Wellington if the charges to be filed in Auckland are dismissed, or to be heard in Auckland at an undetermined date if the charges are accepted.
- APNZ