With parking charges set to rise, Auckland Transport pushes benefits of sharing rides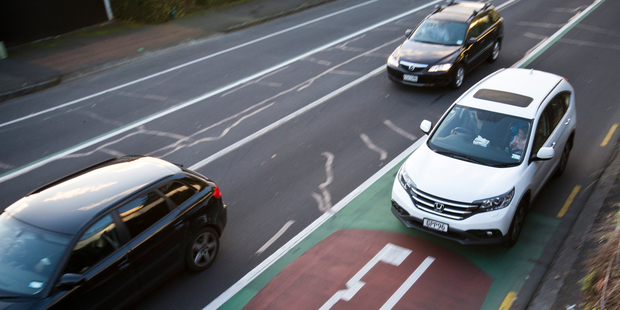 Motorists wanting to save up to $10 a day - and enjoy the benefits of scooting down a transit lane - are being advised to find a carpooling mate.
Auckland Transport is eagerly pushing the benefits of finding someone to carpool with, saying it not only reduces the number of cars on the road - easing congestion and making faster trips for everyone - but has plenty of financial benefits too.
Auckland Transport community manager Matthew Rednall said two people sharing a car and parking costs for a 15km journey each workday would equate to annual savings of about $2550 for each person.
The push to get more people sharing rides comes at the start of Kiwi Carpool Week.
"Carpooling also reduces the number of cars on the road, easing congestion and making it a faster trip for everyone," Mr Rednall said. "Plus, having another person in the car makes your journey more enjoyable and interesting. Another benefit of having two people in the car is that you can use some transit lanes."
A council analysis of data, released last week, showed about 430,000 Aucklanders travelled to work by motor vehicle on Census Day (March 5 last year), compared with only 43,392 who used a bus or train.
However, the proportions are improving.
During the seven years since the previous Census, the number of Aucklanders driving to work had fallen 2 per cent to 84 per cent, while public transport had increased 2 per cent in popularity to 10 per cent.
Now, there is a growing incentive for motorists to carpool following an Auckland Transport proposal for a $1 hourly rise in downtown street parking zones and a rise of $4 an hour in council-owned parking buildings.
Massey University second-year student Mollie Durey said there were pros and cons to carpooling.
"It's a wonderful idea but it's complicated really."
In the last semester, she and two fellow students from Whangaparaoa Peninsula shared the trip to classes in Albany on Mondays and Wednesdays. The drive took between 25 and 40 minutes.
"Each day, we used a different car and driver - when we could work out a way we could go at the same time.
"With different class timetables and finishing times, two of us stayed an extra hour to wait for the third person," Miss Durey said. "But it was worth it, because of the environment."
However, carpooling became too hard this semester, with changing timetables and the difficulty of finding a driver who was not on a restricted licence.
Miss Durey said students' reluctance to engage with strangers for ride-sharing could be a reason that some spaces in the campus carpark set aside for carpoolers were empty.
Motorists are being encouraged to visit the Let's Carpool website to find out the cost benefits of carpooling. More than 5000 people are registered on the site which also helps those looking to start carpooling by matching people from nearby areas.