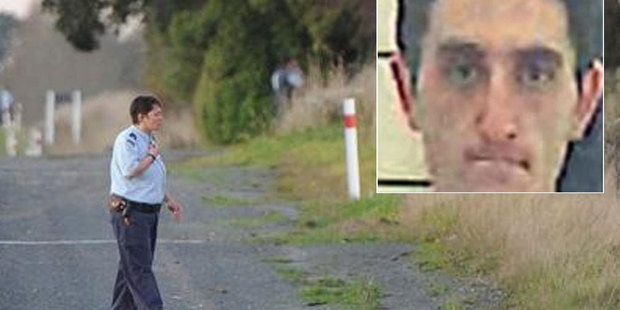 The mother of escaped prisoner Stephen Maddren has made an emotional plea for her son to give himself up.
''Stephen, can you please hand yourself in?'' his mother, who declined to be named, said last night.
''We are all worried about you and we love you very much .. . please come home.''
On Tuesday afternoon, a barefoot Maddren (25) became the first person to escape from the Otago Corrections Facility in Milburn. He remained at large last night.
Read: Prisoner escapes from Otago Corrections Facility
Early yesterday, he is believed to have broken into two homes at Milburn, near the prison.
His mother did not know about his escape until she read media reports, and had not heard from him.
Her son, who was always good at climbing and hiding as a child, went to school in Dunedin.
She maintained her son was a ''good boy''.
She believed he escaped because he didn't want to go to prison and wanted to stay with family.
''I love my son very much.
''And I am sorry for what Stephen has been doing. Stephen will also be sorry too.''
She said her son had had two serious head injuries. He required surgery after being assaulted in Hillside Rd when he was 15. More details have emerged of the escape.
Read: Fears for safety of escaped prisoner
A Department of Corrections spokeswoman yesterday confirmed Maddren was being escorted by one officer when he escaped.
''One officer was with Mr Maddren and four other prisoners being escorted from the receiving office to their unit,'' she said.
''This is well within our approved staffing requirements but will be included as part of the operational review which is currently under way.''
The prisoners arrived at the facility about 3.30pm from the Dunedin District Court.
According to the Otago Daily Times, Maddren climbed up a downpipe and jumped from a roof two or three storeys high to escape from the prison.
The spokeswoman said police were called to the incident ''immediately''.
Police told the ODT on Tuesday they were notified at 4.15pm.
There was no confrontation between Maddren and the guard.
The ODT understands Maddren had attempted to escape in a similar fashion before. However, the Department of Corrections would not confirm this.
Clutha-Taieri area response manager Senior Sergeant Alistair Dickie said police continued their search last night and were confident of catching Maddren.
Police had executed a search warrant at a residential address close to the prison and searched the Toko Golf Club yesterday, but had found no signs of Maddren.
Police found an empty chocolate milk container, believed to be related to a burglary in Narrowdale Rd, and it would be examined by forensics officers.
Another break-in was reported at a house on State Highway 1 near the prison, but nothing was taken, he said.
''The problem is he seems to be lying low during the day and active at night, under the veil of darkness, which makes if difficult for us,'' Snr Sgt Dickie said.
About a dozen staff as well as police dog handlers had been involved in ground searches but the weather had made tracking difficult for the dogs, he said.
Otago Corrections Facility manager Jack Harrison said he regretted some neighbours had not been informed of the escape but prison staff made every effort to do so.
He said 84 people were emailed or received a text, and phone calls began soon afterwards.
''The first notification of this escape went out within the hour of it occurring and where outdated or incorrect information was held staff attempted to locate alternative contact details,'' Mr Harrison said.
''Some neighbours were out at the time of the notification and for those few who had requested contact by landline, attempts were made at later times.
''Further updates were sent throughout the evening.''
Milburn resident Noel Weir told the ODT on Thursday he was not notified and police did not visit his address.
Mr Harrison said Corrections staff and police visited immediate neighbours shortly after the escape to inform occupants and to check the prisoner was not on their property.
Corrections updated its notification register in August 2013, he said. Letters requesting the occupants of neighbouring properties provide up-to-date details were hand-delivered or in some instances mailed to owners.
''Corrections takes public safety extremely seriously and escapes from custody will not be tolerated.''
Police confirmed Maddren had a history of dishonesty offences. He was facing five current charges: stealing two $250 bicycles, and receiving stolen bank cards, driver's licence, fuel debit cards ($200 value), all between January 1 and May 11.
In November 2010, a judge described Maddren as a ''recidivist dishonesty offender'' with close to 10 burglary convictions and 30 for dishonesty.
He was given two and a-half years' jail for two burglaries - of a house and a city restaurant.
A pre-sentence report noted he had ''long-term mental health difficulties, although it was unclear if they were related to his drug abuse''.
Maddren took advantage of his relationships with others, was described by victims as untrustworthy and ''very nasty'', the report said.
The judge told Maddren he would remain ''high risk'' unless he got his issues under control and stopped refusing to take his medication.
In 2008, his partner at the time told the ODT Maddren had lost his factory job following a psychiatric episode the previous year and the family had struggled to get help from various agencies.
''He just needs help, but no-one will listen.''
She met Maddren on a course in 2004 and described him as a ''good husband and a wonderful father''.