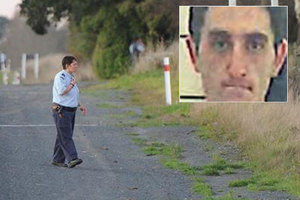 Police fear for the safety of an escaped prisoner as their search this morning enters a third day.
The search for Stephen Uriah Maddren -- who fled from the Otago Corrections Facility with no shoes and wearing only trackpants and a top -- was called off for the day about 5.30pm yesterday.
Temperatures last night were forecast to be only slightly warmer after what police described as "hypothermic conditions" on Tuesday night.
Maddren, 25, -- who has previously escaped custody -- fled from the prison near Milton on Tuesday afternoon while being transferred after his remand hearing at the Dunedin District Court.
Police spent yesterday searching a forestry block near the prison where Maddren was spotted on Tuesday night.
Clutha-Taieri area response manager Senior Sergeant Alistair Dickie said while there were growing concerns for Maddren's safety, police hoped to find him alive.
"If he was in the forestry block last night, he won't be looking too flash because he wasn't wearing any footwear," Snr Sgt Dickie said.
"It was part of the reason we stepped up the search today. It was as much about his welfare, as it was about finding him."
More details emerged yesterday about Maddren's escape.
The Department of Corrections remained tight-lipped about why Maddren -- who appeared in court in 2010 on charges of escaping custody -- was transferred from court without restraints on Tuesday.
Labour corrections spokeswoman Jacinda Ardern questioned Corrections Minister Anne Tolley at a law and order select committee meeting yesterday about the circumstances which led to his escape.
After the meeting, Miss Ardern told the Otago Daily Times she was told Maddren escaped from custody by climbing up a downpipe on to a prison roof and jumping from a height of two-three storeys to the other side.
He was not in handcuffs at the time of his escape, she said.
Mrs Tolley and Department of Corrections chief executive Ray Smith did not deny the allegations.
The ODT understands Maddren was one of several prisoners being transferred from the court and was in the presence of one or two escorts.
Department of Corrections protocols state that remand prisoners should be in the presence of "generally two officers".
In an emailed statement, Mrs Tolley said an investigation into the incident would take place and "uncover exactly what happened".
"Such escapes are now extremely rare and I have questions about why [audiovisual links] were not used, to prevent any transport risks," she said.
A Department of Corrections spokeswoman said the department could not comment on the escape until the prisoner was found as it could "inadvertently impact on the police investigation".
Land Search and Rescue, police staff and three police dog handlers were involved in the search yesterday.
Temperatures ranged between -4degC and -1degC on Tuesday night and were forecast to be between 0degC and 2degC last night, a MetService spokeswoman said.
Snr Sgt Dickie said police were not aware of any associates of Maddren's in the area, but inquiries were ongoing.
Maddren is Caucasian, 171cm tall, with a brown or black mullet-type hairstyle and with no teeth. He was last seen wearing green track pants and a green top.
While police did not consider him a danger to the public, people should not approach him but instead call police on 111 if he is sighted.
Anyone with information about his whereabouts should call the Dunedin police on 03 471 4800. Information can also be provided, anonymously, to the organisation Crimestoppers on 0800 555111.