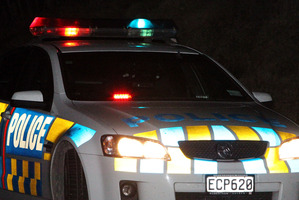 A bystander saved a teenager being assaulted in a bus station from further injury when he intervened to pull off the attacker.
The man's actions are being hailed by police, who called for more witnesses of the assault, which took place in Hamilton yesterday afternoon, to come forward.
The 18-year-old was assaulted by three youths as he waited for a bus at Hamilton Transport Centre on Anglesea St about 3.35pm.
"[They] punched him to the ground inside a bus shelter and continued to assault him before a man intervened and pulled off one of the attackers," constable Marcus Hunter of Hamilton CIB said.
The trio then fled, and the teen was taken to Waikato Hospital, where he was treated for multiple fractures to his jaw.
He was due to have surgery on his face today.
CCTV footage captured the incident, and detectives are scanning the tapes to identify the attackers.
One youth has already been arrested after camera operators told police that he was seen at the bus station.
"An 18-year-old male has since been identified as one of the other offenders and he is currently actively being sought."
The third attacker is described as a Maori or Polynesian male aged in his late teens to early 20s, and was wearing a black hooded sweatshirt over a black baseball cap with white writing on it at the time.
He was described as the tallest of the three, of slim build and with facial hair on his top lip and chin.
CCTV footage shows dozens of witnesses at the scene, Mr Hunter said, and called on them to come forward.
"What we're asking for is that those who saw something do something -- come forward to police with what you saw.
"This type of behaviour is unacceptable anywhere at any time of day, but for it to occur in the middle of the city in broad daylight is simply not on."
He also praised the actions of the bystander who intervened.
"Had it not been for this man's actions the victim's injuries could have been far worse and we would like to acknowledge this person's actions."
Anyone with any information about the attack, or can identify the third attacker, is asked to contact Mr Hunter on 07 858 6200 or anonymously contact Crimestoppers on 0800 555111.
- APNZ