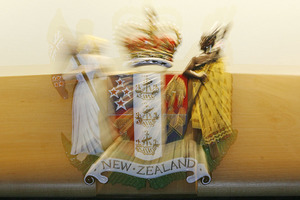 The wife of a motorcyclist killed by a driver who fell asleep at the wheel says the woman is a coward for running from the scene.
"You've ruined lots of lives and you should pay for what you have done," said a victim impact statement from David Jenner's wife, Tracy.
It was read to Christchurch hospitality worker Holly Elizabeth Hodge who was returning to her mother's house in the early hours of August 20 last year when she momentarily fell asleep on State Highway 16 at Waimauku, west of Auckland.
Just before 7am she crossed the centre line and struck a motorbike driven by David Jenner, who was riding into Auckland for work.
Mr Jenner was killed and Hodge, 21, drove a short distance away, parked her car and walked to a friend's house. She did not try to help Mr Jenner.
The Waitakere District Court heard today that Hodge was returning from the airport, where she had dropped off her brother, and had been awake all night.
A forbidden driver, she should never have been on the road.
At her sentencing today, a police officer read a victim impact statement from Mr Jenner's wife Tracy, that had some harsh words for Hodge, who sobbed in the dock.
"You are a coward and a murderer in my family's eyes. You deserve to be punished," the statement said.
The Jenners came to New Zealand from England in 2003 and just weeks before Mr Jenner's death, the couple bought their first home here. Now, Mrs Jenner said, she was worried about keeping it as her husband was the family breadwinner.
She couldn't believe what started as normal day, when the pair kissed and said they loved each other, would end in tragedy.
Earlier this year Hodge admitted charges of careless driving causing death, failing to stop and check for injuries and driving while forbidden, but the court was told today she had since been caught driving again in Christchurch. This time her car was impounded.
Defence lawyer Jim Boyack said Hodge was deeply affected by what she did. She offered to meet Mr Jenner's family to apologise, but that was turned down.
She was about about to lose her job because of her drinking, and had last night been so stressed she stopped breathing at one point.
Mr Boyack said Hodge panicked after hitting Mr Jenner.
Judge Phil Gittos told Hodge she should never have been on the road if she was so tired. He sentenced her to nine months' home detention and disqualified her from driving for two years.
- APNZ