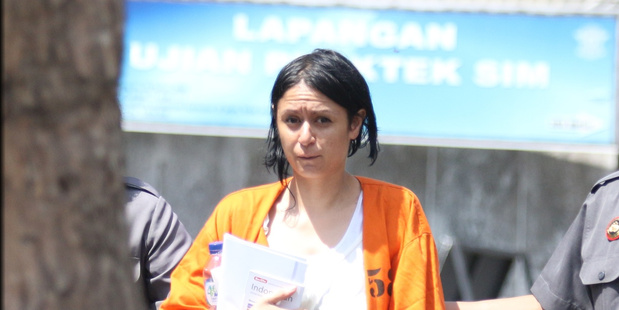 New Zealander Leeza Ormsby could be out of a Bali jail sooner than was feared, with prosecutors confirming they will press only lesser drugs possession charges.
Ormsby, who was arrested at the scene of a drug bust in February after a police tip-off, appeared in court in Bali for the first time yesterday.
She wore a long, white cheesecloth shirt with her fingernails painted blue, shielding her face from the cameras with a fan that said "Paradise".
Prosecutor Ni Putu Oka Ariani said the 37-year-old would be charged only with possession of a marijuana joint that was in her handbag.
"The charges in the indictment are the same, nothing has changed," she said. "The trial will still be only for that one joint."
At the Canggu villa bust, Bali police allege they found MDMA and hashish - drugs that Ormsby has always insisted she knew nothing about.
Her lawyer, Ari Soenardi, will argue his client was only at the villa to collect items left there after an earlier party, a case of being in the wrong place at the wrong time.
Police had wanted to charge Ormsby over the other drugs, meaning she could have faced up to 20 years in a Bali jail. Instead she will face charges carrying penalties of between four and 12 years.
After visiting Ormsby at her holding cell at Denpasar District Court yesterday, Mr Soenardi said she was ready to face chief judge Parulian Saragih.
"She said she's ready for the trial."
- AAP