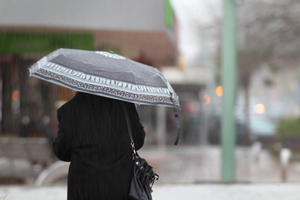 Rain, gales, and snow are on the way for the rest of the week as two weather systems cross the country.
That would bring changeable weather for the rest of the week, MetService meteorologist Peter Little said.
A front moving across the South Island today will move up the country today and tomorrow, bringing cooler southwesterly winds. This weekend another front will cross the country, bringing northwesterly winds and rain to most of the country.
The weather would fluctuate between windy and wet, and fine for most of the country until early next week, Mr Little said.
"It is going to be really quite changeable weather."
Auckland can expect wet weather tomorrow that will clear up on Thursday before becoming windy and wet on Saturday night.
"There's cooler weather on the way," Mr Little said. "But that northwesterly will be quite warm in the afternoons for eastern areas."
Strong gales are expected for parts of the country south of Wairarapa on Friday and Saturday, Mr Little said.
* Showers, cool temperatures forecast for NZ
* Surprise hail shower delights kids ... and then it was gone
Wellington will be wet tomorrow, dry on Friday then wet and windy into the weekend.
Higher elevation areas will be in for some snow during the rest of the week.
"The ski-fields will get a decent top-up," he said.
WeatherWatch.co.nz forecasters said the northern and eastern parts of the country will have a warm start to the weekend but by Sunday evening a significant cooler change will kick in.
- APNZ