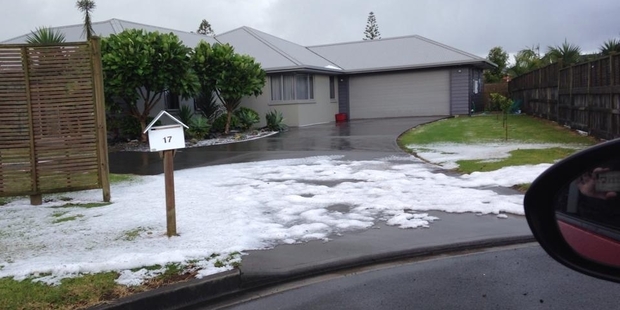 Northlanders were caught off guard by hail pounding their roofs and blanketing their lawns during a storm. But in typical Northland fashion, the hail quickly melted as the sun came out on Saturday.
Kiri-Maree Rodger, 7, said the hail was icy cold and tasted good.
Long-time Whangarei resident Siaan Rodger had put clothes out to dry late morning, just before the storm struck.
"You never would have known it was coming," Mrs Rodger said.
She said her kids loved the hail and had not seen anything like it before. "It was almost like snow."
The hail fell for about 10 minutes and settled where it fell about 2.30pm, she said, before it melted as the weather system cleared and the sun came out.
"Typical Northland weather, really mixed," Mrs Rodger said.
Di Crawford-Errington of Whangarei posted on the Northern Advocate webpage: "Poured at netball. Game called off half way through, it was insane."
While another Facebook follower Wayne Ballantine said: "We didn't even get any rain at Ruatangata!"
MetService weather forecaster Andy Downs said a combination of cumulonimbus clouds, thunderstorms and heavy rain caused the hailstones that were relatively small, about 1cm in size.
Cumulonimbus is a dense towering vertical cloud associated with thunderstorms and atmospheric instability, forming from water vapour carried by powerful upward air currents.
"It [hail] happens more often in Northland than you would know. There was enough cold air to generate cold showers over the weekend," he said. The trough had since moved to the northeast.