Police say unrestrained youngster was sitting on mother's lap and overcrowding, speed and two bald tyres likely to have contributed to crash on rural road near Te Kuiti yesterday.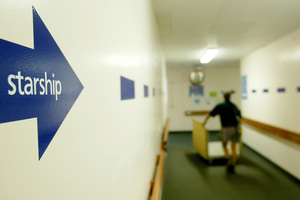 A baby who was unrestrained on his mother's lap when the car they were travelling in hit a bank yesterday has died.
Waikato district road policing manager Freda Grace confirmed this morning that police found the baby's car seat in the boot of the car but there was no room for it to be set up as the car was overloaded with passengers.
Four adults and a 3-year-old were all wearing seatbelts and properly restrained when the car crossed the centre line and hit a bank on State Highway 4 at Kopaki, Waikato around 8.30am yesterday.
"The baby was airlifted to Auckland's Starship Hospital with critical injuries following the crash but passed away early this morning," Mrs Grace said.
"A number of factors are under consideration by crash investigators at this time including the speed of the vehicle as it approached a 65km/h advisory bend, the condition of the two front tyres and that there were six people travelling in the five seat Honda hatchback at the time of the crash."
Mrs Grace said if the baby had been in a car seat, it could have prevented the infant suffering critical injuries.
"Sadly with so many people in the car there wasn't room to fit it," she said.
Meanwhile, a woman died when her car crossed the centre line and collided with three vehicles, including a truck at State Highway 3 south of Ohaupo yesterday.
"The 22-year-old female sole occupant of the Mazda died at the scene while another person from one of the vehicles was taken to Waikato Hospital with minor to moderate injuries.
"The Waikato Serious Crash Unit is still working to establish the circumstances leading up to the crash and there are a number of factors under consideration at this time meaning it would be inappropriate to speculate further on what occurred."
Mrs Grace said police across the Waikato are this week engaged in a number of road safety initiatives focusing on child car restraints, driver inattention, speed, alcohol and serviceability of vehicles for Road Safety Week, which began yesterday.
- APNZ