Here are the most read news stories today, upcoming events and the stories that will be talked about tomorrow.
1. Hole too deep for houses, residents say
A community group wants what it says is Auckland City's deepest quarry filled in before new houses are built in the pit deep below ground level.
Three Kings United Group president Garry Bryant said the Winstone Quarry was 34m below road level after being mined for about a century.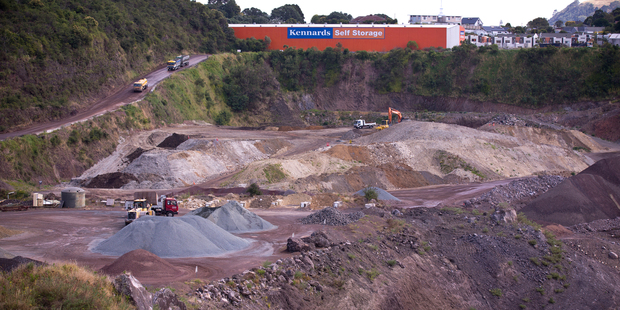 Photo / Dean Purcell

2. Son who died at his parents' grave
Photo / Brett Phibbs
A man who died during a visit to his parents' grave at an Auckland cemetery on Mother's Day was a former soldier, truck driver, father of four - and one of the original King Cobras gang members.
Fritz Lo Tam, 68, was in the historic Wesleyan area of West Auckland's Waikumete Cemetery cleaning his parents' grave when he collapsed about midday on Sunday.
Bystanders, including a nurse, rushed to help him and gave him CPR but he could not be revived.
3. Southern Nessie mystery solved
Image / Getty Images
Call it the Cretaceous cold case. For years, bones belonging to a mystery meat-eating ocean reptile had sat in Canterbury Museum, with scientists not completely sure just what kind of sea monster they had once belonged to.
But the case has now been solved with help from visiting experts from Argentina and Chile, who conclude the bones came from an elasmosaur - a creature more reminiscent of the mythical Loch Ness Monster.
Elasmosaurs, a type of plesiosaur typically around 14m in length and which roamed our seas 70 million years ago, are noted for their extremely long necks, which helped them stalk prey from below.
4. Gangs in peace talks for 'the next generations'
Police are willing to enter talks with the two biggest gangs in the country about turning their backs on crime as Black Power and Mongrel Mob leaders meet to broker a peace plan.
Other changes are also forecast in gangland with the Government preparing to unveil a new plan to deal with gangs, which Police Minister Anne Tolley hopes to present to the public before the election.
The shift in mood is revealed in an investigation by TV3's 3rd Degree, screening tonight, which captures peace talks between influential Black Power and Mongrel Mob presidents.
5. Willie Apiata's next move revealed
Photo / Richard Robinson
Willie Apiata has moved on from his job helping at-risk youth - and is now being handled by Richie McCaw's management team.
New Zealand's only living Victoria Cross recipient had left the Defence Force to take up a role at Papakura's High Wire Charitable Trust. Securing someone with the mana of Mr Apiata was a coup for the trust, but the move appears to have not worked out after less than two years.
6. Turkey mine disaster
Photo / AP
Turkey's energy minister has said the death toll from an explosion and fire at a coal mine in western Turkey is now 201. Energy Minister Taner Yildiz said 80 mine workers were injured and at least four of them are in serious condition.
The accident in the mine in the town of Soma some 250 kilometres south of Istanbul is one of the worst mining disasters in Turkish history.
7. Former top school teacher denies indecent act
A former teacher at one New Zealand's top secondary schools has pleaded not guilty to a charge of committing an indecent act in a classroom at the school.
The man, whose name is suppressed until his next appearance later this month, has elected to face trial in front of a judge-only, without a jury.
The name of the school he worked at also remains suppressed until then although the Auckland District Court heard today that the school no longer seeks suppression of its name or supports the man's suppression. He had worked there for more than a decade.
8. Is this why Solange attacked Jay Z?
Solange Knowles reportedly lashed out at Jay Z because he has failed to help boost her career.
The singer, 27, physically attacked her brother-in-law in an elevator at the Met Gala after-party in New York City on Monday night because the rapper reneged on repeated promises to work with her in the studio.
A source told the Daily Mail: "Solange is so angry because Jay Z promised to give her more help with her career and when she brought it up again the night of the gala, he told her he just didn't have the time to work with her in the studio."
9. Globe-trotting paedophile
Photo / FBI / AP
Hundreds of people have contacted the FBI about a teacher suspected of drugging and molesting boys during a four-decade career at international schools on four continents, greatly expanding the potential number of suspected victims.
The FBI said last month that William Vahey had molested at least 90 boys, whose photos were found on a memory drive stolen by his maid.
10. Five healthy foods to put in your trolley
If you eat to improve your health, we take a look at five foods to put in your supermarket trolley every week. All pack a proven punch if you have them regularly.
- nzherald.co.nz, NZ Herald, APNZ, Daily Mail, AP