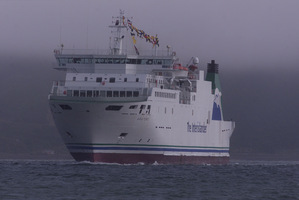 KiwiRail's Cook Strait ferries have been involved in three serious incidents over the past week and the company has covered them up, New Zealand First leader Winston Peters has alleged.
Mr Peters said two Interislander ferries, the Arahura and Kaitaki, were involved in a near miss at Picton early last week.
"It is understood that an officer was taken off Arahura for drug testing," he said.
A KiwiRail spokeswoman told APNZ drug and alcohol testing was mandatory following any incident in the company.
Mr Peters said in an incident yesterday, when the Arahura was leaving Wellington, the pilot on the nearby cruise ship Dawn Princess told the Arahura skipper to take a certain bearing but the skipper turned in the opposite direction and nearly hit a third ship, the Citrus Express.
An inquiry had been conducted into that incident, Mr Peters said.
The third incident involved the Stena Alegra, which has a damaged propeller, he said.
"Reliable sources have told us this happened when the ship hit a wharf in Picton."
Mr Peters accused KiwiRail of hiding the details from the public.
He said the incidents needed to be drawn to the attention of Transport Minister Gerry Brownlee, so he could start looking for competent shipping executives.
Maritime New Zealand said it was investigating all of the incidents.
Interislander general manager Thomas Davis rejected there had been any cover-up over the three incidents involving the ferries.
"No cover up has occurred, and in the case of one of Mr Peters' claims that recent damage to the Stena Alegra propeller occurred because the ferry hit a wharf in Picton is quite simply, wrong."
Safety was Interislander's top priority, and the organisation encouraged a culture of full incident reporting as a matter of practice to maintain its high safety record, Mr Davis said.
Mr Peters' two other claims of a cover-up also could not be supported, he said.
It is also important to remember that reporting in itself doesn't necessarily mean a safety incident has occurred.
"The incidents Mr Peters' alleges have been subject to normal investigation protocols and a full safety investigation has begun, including the opportunity for all parties to share incident details to establish if further action is required.
"Our internal investigation team is examining these alleged incidents, including taking steps to ensure our staff are treated appropriately through the investigation process."
Mr Davis said KiwiRail also reported to Maritime New Zealand as a matter of course.
"As with every investigation, staff allegedly involved were stood down and as part of our standard procedures undertook drug and alcohol testing."
A spokesman for Mr Brownlee said KiwiRail would be briefing the minister this afternoon about the accusations.
"He was aware of the incident on Friday with the Arahura and the Kaitaki."
Maritime New Zealand (MNZ) spokesman Steve Rendle said they were looking into the near miss between the Arahura and Kaitaki as well as the incident between the Arahura, Dawn Princess and Citrus Express.
Near misses were not uncommon, but that did not mean they were not taken seriously, he said.
MNZ was also looking into how the Stena Alegra had its propeller damaged and into the suggestion that the vessel hit a wharf, Mr Rendle said.
**********
Reported near miss incidents between January 2011 to December 2013 involving all Cook Strait shipping operators:
* Maritime New Zealand received 68 incident reports of all types in that period for all ferry companies operating in Cook Strait;
* of these, 15 were reported as near miss, or close quarters incidents, for all ferry companies;
* Interislander was involved in 36 reported incidents, and 10 near misses; and
* Interislander conducted 60 per cent of all ferry crossings and has less than 50 per cent of reported incidents.
- APNZ