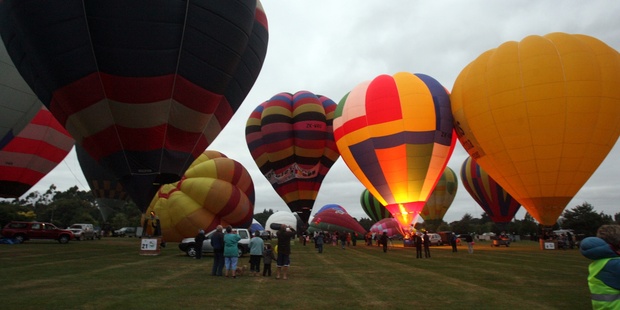 More than two years after a ballooning accident claimed the lives of their loved ones, relatives are reliving the details of the ill-fated day at a coroner's inquest.
Detective Inspector Sean Hansen has been the first person to give evidence at the coroner's inquest into the deaths of 11 people killed after boarding a hot air balloon on January 7, 2012 in Carterton.
Family members of those on board have filled the public gallery at the coroner's court in the Wellington District Court.
During Mr Hansen's statement of evidence, which took about 30 minutes, all events from the morning of the trip - including the pre-flight briefing, the moment the balloon struck power lines, subsequent fire and crash to the ground - were revisited.
Mr Hansen, who was in charge of the Wairarapa Criminal Investigation Bureau at the time of the crash, spoke about the witness accounts given to police from the day, and those who gave CPR to couple Alexis Still, 19, and Chrisjan Jordaan, 21, after they jumped from the balloon basket to escape a fire sparked by electrical arcing from hitting power lines.
Many in the public gallery looked down while Mr Hansen recounted the day's details.
Just before the collision, balloon pilot Lance Hopping had flown into a paddock on Somerset Rd bordered by power lines on two sides.
He was about 7 metres from the ground when a gust of wind changed the direction of the balloon.
When it was blown close to power lines on the edge of the paddock, Mr Hopping tried to out climb them. He failed and the basket caught two of the lines, leading to devastating fire and crash.
According to emergency aviation procedure, the correct action would have been to descend in the situation.
The coroner's inquest is the last of a series of investigations and reports into the crash. Details of the day have been thoroughly documented and analysed in previous investigations.
The process, which has included an investigation by the Civil Aviation Authority and the Transport Accident Investigation Commission (TAIC), has been difficult for several relatives of those who died in the crash.
Bronwyn Brewster, the daughter of couple Ann and Desmond Dean killed in the crash, previously spoke of the challenges of the investigating process.
"Every time a report comes out, it's kind of like we're taking two steps forward and one giant step back at a time," she told APNZ.
The TAIC report found errors made by Mr Hopping, 53, ultimately resulted in the fatal crash on the day.
It also established he had cannabis in his system at the time of the accident.
Mrs Brewster is due to give evidence later today.
The inquest, before Coroner Peter Ryan, is set down for four days.
- APNZ