As the Anglican General Synod meets, let's hope we can take a step forward on same-gender relationships.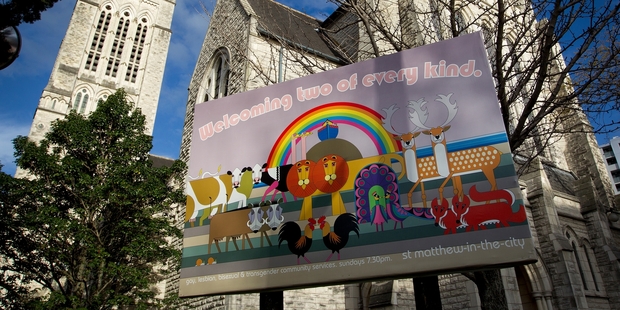 The Anglican Church faces a decision about gays and lesbians in the church this coming week. Its General Synod gathers today for its week-long biennial meeting at Paihia. The Synod is made up of representatives from the seven dioceses in New Zealand, the five rohe (administrative territories) in Aotearoa, and the diocese of Polynesia. There will be plenty of bishops, prayers, eating, discussion, and some controversy.
One of the more important debates of public interest will be in response to a commissioned report called Ma Whea? (Where to?). The Anglicans invited five eminent persons, led by Sir Anand Satyanand, to examine the vexed issue of ordination for gay or lesbian candidates who are living in same-gender relationships. A minister according to Anglican Church law needs to be chaste, and chastity is defined as the "right ordering of sexual relationships". The debate hinges around whether a same-gender relationship can ever be considered rightly ordered.
Part of the attractiveness of the Anglican Church is its willingness to live with ambiguity. With no mention in church law of homosexuality or same-gender relationships, some bishops have ordained gay and/or lesbian candidates, and some of those candidates had partners. However such latitude, some would say doctrinal disobedience, has been curtailed in recent years, with the Anglican Church now wanting to find a common mind on this matter.
This year, Geno Sisneros, a gay man in a same-gender relationship, challenged the church regarding its discriminatory behaviour in refusing to consider him for ordination purely based on his relational status. The Human Rights Tribunal in ruling against Mr Sisneros and allowing Anglicans to continue with their practices upheld the church's right to determine its own policy in this regard. The church won in legal terms, but its public credibility suffered.
The Ma Whea? Commission outlines 10 possible options. Like the Human Rights Tribunal, the commission is suggesting that the General Synod can choose its own way forward without being unduly constrained by New Zealand law or the policies of Anglican churches overseas. Although there may be some legal consequences in pursuing some options, the decision this coming week can be based on the church's understandings of theology and biblical interpretation, rather than what its lawyers advise is prudent.
For many years now the church has been discussing homosexuality and has been looking at texts from the Bible, tradition, and science. A clear consensus has not emerged. Alongside the Ma Whea? report is a thorough exploration of the biblical and theological issues produced by the Church's Doctrine Commission. It sets out a rationale for the church to change, as well as a rationale to remain discriminatory. It seems that after weighing the evidence, the church simply needs to make a choice.
Some Anglicans however want to recognise the contextual validity of the biblical and theological arguments both for and against acceptance of gay and lesbian people, and hope that any decision of the General Synod recognises the reality and needs of both sides.
The 10 options from the Ma Whea? Commission, acknowledging these arguments, range from continuing to discriminate to fully accepting and ordaining sexual minorities; from splitting the church, to allowing different dioceses or bishops to have different practices around acceptance; and continuing to talk as it has done for a number of decades.
The Anglican Church, like many Christian denominations, has a credibility problem around this issue. As an institution that preaches love, tolerance and inclusion, yet whose practices are experienced by most gay and lesbian people as unloving, intolerant and exclusive, the church is increasingly seen by the public as hypocritical and unattractive. While the church will always have points of difference with wider society, too much dissonance will quickly relegate it to the status of an anachronistic sect.
As the Anglican General Synod again debates this subject, many of us hope to see it take a step forward to allow, at least in some places, candidates with same gender partners to be ordained and have their relationships acknowledged and blessed. A step backwards will be to decide to keep talking and allow the exclusionary status quo to continue.
Glynn Cardy is a former member of the Synod and is now minister at St Lukes Presbyterian Church in Remuera.