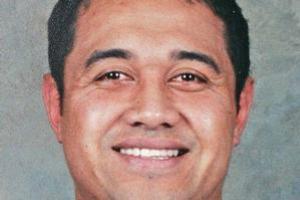 The partner of a man who drowned at a Northland beach known for its unpredictable swimming conditions says the owner of a local motel told the family it was safe, new coroner's findings reveal.
Melanie Cornish made the comments in her statement of evidence presented to Coroner Brandt Shortland for his inquest into the death of Ieremia Galuvao, 40.
The father-of-two drowned on January 15, 2010 while swimming with his then 11-year-old son at Ahipara beach. Mr Galuvao was not a strong swimmer.
The Auckland family, which also included his then 16-year-old son, were on holiday at the time.
Coroner Shortland's findings into Mr Galuvao's death were released today.
He found Mr Galuvao drowned after becoming caught in a rip while trying to retrieve a body board which had been washed out to sea.
At the time, Mr Galuvao and his son were swimming about two kilometres north of the surf lifesaving patrolled flags area at Ahipara beach, which is at the southern end of Ninety Mile Beach.
When it became apparent Mr Galuvao was in trouble, two teenagers on the beach grabbed their kayaks and life jackets and tried to make their way to the struggling man.
Coroner Shortland's findings showed those on the beach thought conditions had been reasonably calm at the time, however when the two boys in kayaks - aged 16 and 13 at the time - tried to make it out to Mr Galuvao, they struggled because the sea conditions had changed.
When they eventually made it further out into the water, they were unable to spot Mr Galuvao until on their way back to shore.
He was dragged out of the water and CPR was performed for about 30 minutes.
By then, several surf life saving guards had arrived. An off-duty police officer also assisted, however resuscitation efforts - which included the use of a defibrillator - were unsuccessful.
Evidence from Ms Cornish, noted in Coroner Shortland's findings, showed she thought the beach was safe for swimming after Susan Pyne, owner of the Beach Abode motel where the family were staying at, told her so.
However, Ms Pyne told the coroner she could not remember having a conversation about swimming conditions with Ms Cornish. She also said if it had come up, she would have advised people to be careful around the estuary due to the current in the area.
Mr Galuvao and his son had been swimming close to an estuary when he was dragged out to sea.
Coroner Shortland said it was not part of the "core business" of any motelier to provide information about the conditions of the beach from day to day. This was the responsibility of surf lifesaving teams which are "recognised professionals".
Recommendations made by Surf Lifesaving New Zealand, endorsed by Coroner Brandt Shortland:
* Extend lifeguard services in the Far North district and specifically consider having further patrols in other areas
* Install water safety signage at all coastal access locations at Ahipara, with priority given to "highest risk" sites
* Establish an integrated approach to coastal callouts and emergencies between relevant organisations
* Have an emergency phone to allow fast, two-way communication with emergency services
* Provide coastal safety material at campgrounds and accommodation locations
* Have beach safety information about coastal areas on the websites of the relevant territorial authorities and tourism companies
* Erect signs with daily information about the beach at access points
- APNZ