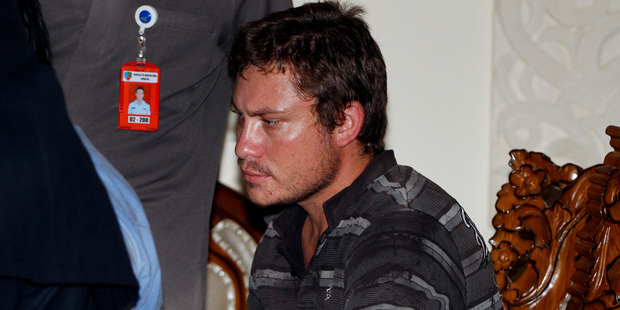 Indonesian police are preparing to question a Queensland plumber who is in custody after allegedly sparking a hijacking scare aboard a Bali-bound flight.
Matt Christopher Lockley, 28, was detained by cabin crew on a Virgin Australia flight from Brisbane to Denpasar on Friday, after banging on the cockpit door.
Authorities at Denpasar's airport say they received notice of a "hijacking'' from the plane and police and air force officers were waiting when it landed.
When they got on board the Boeing 737-300, Lockley was already detained at the rear of the aircraft and didn't put up a fight.
Cabin crew reported he was intoxicated, aggressive and paranoid, but police wouldn't confirm his intoxication until after a medical examination.
Bali Police Chief Inspector General Albertus Julius Benny Mokalu said Lockley was too "confused'' to be questioned on Friday but would undergo drug and alcohol testing.
Authorities are also investigating the hijack signal, which triggered the closure of the busy tourist airport for about 30 minutes.
Virgin Australia's Bali airport manager, Heru Sudjatmiko, said reports of a hijacking were a "miscommunication''.
The airline says at no time was the aircraft's safety in question, with its 137 passengers and seven crew all disembarking safely.
Earlier it was reported that Indonesian authorities feared Virgin Australia Flight VA41 had been hijacked, so when it landed at Denpasar's airport, military vehicles rushed it. The pilot was told to park at the end of the runway in case anything dangerous was on board.
For 30 minutes, authorities tried in vain to communicate again with the plane, but after making visual contact they boarded it and found the disruptive passenger at the rear and already detained by the flight crew.
"He was sitting at the back, not armed and didn't attempt any fight," said Colonel Sugiharto Prapto, the airport's commander.
"We're still investigating how the pilot sent the hijack signal."
Virgin Australia said the Boeing 737 300 was carrying 137 passengers and seven crew.
"At no point was the safety of the aircraft in question."
It disputed reports that the hijacking claims came from the pilot.
Bali police chief Inspector General Albertus Julius Benny Mokalu told reporters:
"We got inside the plane and Matt was already secured by one of the stewardesses from the cabin crew at the back. We then secured him and handcuffed him.
"According to cabin crew, he was paranoid and he was banging on the door. He still cannot answer questions because he still seems to be confused."
Virgin Australia's Bali airport manager, Heru Sudjatmiko, said initial reports there had been an attempted hijacking were a miscommunication. "What happened was there was a drunk person ... too much alcohol consumption caused him to act aggressively."
Palani Mohan was a passenger on a Garuda Indonesia flight about to take off from Bali when chaos ensued, Australia's ABC News reported.
"The captain of my plane made an announcement saying we were delayed indefinitely because a hijack was going on in Bali airport, about 150m away from us. I saw at least five vehicles including military-style trucks, filled with men in uniform, rushing towards the plane."
The Virgin Australia flight is popular with Kiwis travelling to Bali, but it is not known if any were on board.
- additional reporting AAP