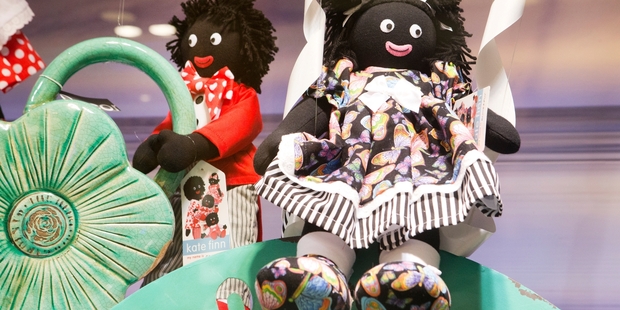 A shop display of golly dolls, previously known as golliwogs, has some shoppers angry the "racist symbol" continues to be sold.
The dolls, designed by Australian Kate Finn, are displayed in the window of gift shop Acquisitions on Wellington's Lambton Quay. Owner Richard Thomson said all Acquisitions stores around the country sell the dolls.
The store had sold them for about 10 years and the positive feedback from buyers far outweighed the negative, he said. Other stores, including Wellington department store Kirkcaldie and Stains, also offer gollies for sale.
However, Wellington woman Taryn Meltzer tweeted that when she saw the display she swore out loud in disgust. Another tweeter said the display was "utterly foul".
Ms Meltzer said the dolls originated from minstrel shows, in which white people performed with blackened faces.
"They are a racist symbol. They are an offensive racist image and they shouldn't be around these days."
She likened it to the swastika sign displayed on jewellery. "You can argue until you're blue in the face it's a Hindu symbol of love and peace, but we all know what it represents. Meaning changes over time."
Mr Thomson said the name "golliwogg" came from the imagination of author Florence Upton in 1895, who wrote a story about a Minstrel doll, called The Adventures of Two Dutch Dolls and a Golliwogg. The golliwog in the story did not have racist connotations, he said. "In the course of the book [the golliwog] turns out to be brave and friendly ... I would take that story any time over Barbie and her exaggerated bust and her fascination with Ken."
He said the store received about a half a dozen complaints a year about the dolls.
Human Rights Commission spokeswoman Christine Ammunson said while it was recognised golliwogs were offensive to a number of people, the sale or public display of them was not against the law. "The Human Rights Act does protect against 'inciting racial disharmony', [but] the threshold at which such an action is unlawful is high. The display or sale of a golliwog would not reach that threshold."
- APNZ