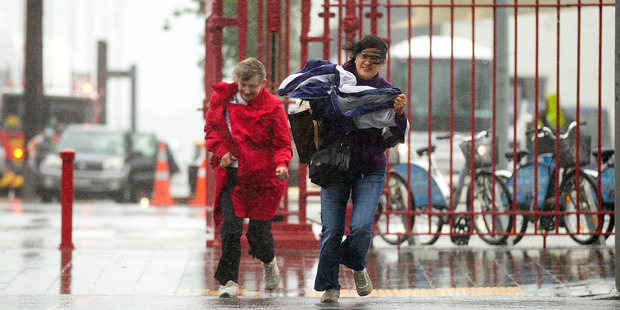 Some Auckland residents have made a cold and dirty start to the long weekend, after being without hot water since Thursday night.
Titirangi resident Jude Potts, who lives with her daughter and son-in-law, said the trio were baffled to wake up on Friday to no hot water, despite the power working.
"This morning, we boiled up the water on the gas stove, pot by pot by pot and loaded up the bath to about an inch of water and managed to get a bit of a bath."
"I went through that Christchurch earthquake and we had no power there and we were all dirty there and that's fine. But the thing is, we got information at that point."
"The frustrating thing about this is there is no information. Yesterday I sat on the phone for two hours."
Ms Potts was told this morning by the Contact customer centre it had received no information from lines company Vector about hot water problems in the area.
APNZ contacted Vector today, which said the widespread power outages caused by the storm would have also cut hot water to some residents on the North Shore and in West Auckland.
"What happens on the northern network [North Shore, Waitakere, Rodney] when there is a power outage [is] it can take out the hot water pilots," Vector spokeswoman Sandy Hodge said.
The hot water pilots are responsible for supplying electricity to hot water cylinders, and must be reconnected separately to the main power supply.
"First priority is restoring power, then you have to go back and restore the hot water pilots."
"It's standard - it happens every time there is a power outage," she said.
Contact Energy spokeswoman Rachel Benton said all affected customers should have received the correct information regarding problems with hot water.
"We will look into that and work to make sure that doesn't happen again, and we do offer our apologies and understand it's a really frustrating experience."
For Meridian customers, getting information about the situation was even more difficult, with the power company realising only this afternoon it had been telling people the wrong thing.
Meridian customer Mike Clubb said in an email this morning he had been told by the company hot water for Auckland customers had been turned off to "conserve power".
"I spent 47 minutes on hold trying to report this yesterday but could not speak to anyone. The issue continues today and when I rang I was told that they had cut the water heating to Auckland to conserve power and that this would continue to be the case for at least a couple of days."
Mr Clubb said the person he spoke to "did not care when I mentioned I had babies in my house or when I asked if any effort had been made to contact customers or make a media release."
Spokeswoman Michelle Brooker said a "third party service" contracted to run the company's call centre over the weekend had mistakenly been passing on incorrect information to customers, which stated hot water had been switched off "to conserve the power on the line while they work on the power fault lines".
She apologised to customers for the inconvenience caused, and said the company was trying to find out where the wrong information had come from.
Vector said crews had been working since yesterday to reconnect the hot water pilots. Ms Hodge said the hot water outages were not widespread, affecting pockets of customers on the North Shore and in West Auckland. She was unable to say when all the hot water pilots would be running again.
- APNZ