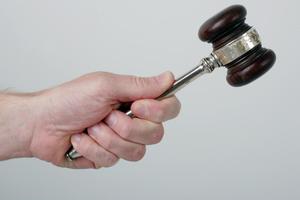 A small baby reached out for his mother in the bed they were sharing before closing his eyes and dying, a coroner has said.
Astyn Ioata, 5-months-old, died from Sudden Unexpected Death in Infancy (SUDI), on March 31, 2012, Wellington Coroner Ian Smith has ruled in a recently released judgement.
He died while he and his mother were sleeping in a single bed while they were staying at a friend's Taita home, north of Wellington.
Coroner Smith emphasised the need to spread the message on how dangerous it was to share a bed with an infant.
"I must again echo the continuing plea, by coroners, for families to eliminate the unsafe sleeping environment with babies and the SUDI advice, not to co-sleep with infants."
Astyn had been born about six weeks prematurely, but he was growing well according to a Plunket check up when he was 4-months-old, Coroner Smith said.
The night before the little boy died, he was fed, bathed and put to bed about 9.30pm.
He was unsettled because of teething, so his mother gave him some Pamol.
He woke the next day about 4am and his mother breastfed him and he fell back asleep.
When his mother woke about 8am, she found Astyn blue and lying on his front.
"The mother picked him up and apparently he made an effort to reach for her face with his hands before closing his eyes and dying," Coroner Smith said.
During an inquiry into Astyn's death, his mother told a SUDI liaison officer she did not understand much about SUDI prevention strategies and chose to co-sleep because she was worried about cot death if the baby slept in a cot.
During a check up three months before his death, a Plunket nurse advised the mother of the dangers of sharing a bed with Astyn and advised he sleep in a bassinet next to the bed, the nurse told the coronial inquiry.
She repeated the advice a month before he died, she said.
The baby's grandmother told police during their investigation of the possible presence of asbestos on the area with the demolition of nearby Housing Corporation houses - that had prompted health complaints from others living in the area.
Coroner Smith said there was no evidence of asbestos in the child, but he said health authorities should be made aware of the possibility of others being effected.
- APNZ