Gallipoli means more to New Zealanders than words can convey. But when the names of Mary and Doug Hill were drawn from the ballot this week for places at the 100th Anzac Day, the moment was especially poignant. Mary Hill tells the tale of three dead Kiwi war heroes and their mother — as brave as any soldier.
When I filled in the ballot form for places on the Gallipoli Peninsula on the centenary of that tragic landing, I felt it would be a privilege to be there for this special remembrance — but I knew my chances were not great. There were 9,851 entries for just 1,900 places.

Doug and Mary Hill are planning to visit Gallipoli this Anzac Day
After pressing "send" on the ballot entry, I was directed through to some information about what laid in wait for successful entrants: A great deal of daunting information about being able to walk at least 8km over rough tracks and being outside overnight on a possibly wet, cold and windswept hillside in Turkey while waiting for the dawn ceremony. My enthusiasm began to wane and I questioned whether I had the courage to do this.
Then I was ashamed of myself when I thought of the bravery of those young men in 1915 and their suffering and death reverberating down the century.
My husband and I wanted to be there. It was the culmination of many years of intermittent reading and research on Gallipoli and the feeling of being part of a growing awareness of the importance of this place for New Zealanders. Imagine my surprise and excitement then, on Monday evening, when my husband Doug called out from the computer: I had been successful in the ballot.
I thought of long-dead relations who had fought at Gallipoli nearly 100 years ago and also of their families, particularly those mothers whose sons had died. Their sons had died and were buried so far, far away.
One such mother was Catherine Elizabeth O'Donnell, whose second son Jack was killed early in the morning of April 25, 1915, as the Auckland Infantry Battalion made its historic landing at Anzac Cove and scaled the steep cliffs from the beach, all the time under heavy enemy fire.
Catherine O'Donnell is my husband's great-grandmother. She is believed to have been the first mother of a New Zealand soldier to visit Gallipoli, after the war. She travelled there in 1924 to visit her son's grave.
For me, being able to follow in her footsteps and make the same journey that she undertook is very special.
Eliza, as she was called by her contemporaries, was a courageous, enterprising and adventurous woman, who not only suffered the grief of Jack's death in 1915 at Gallipoli, but also that of another son, Bill, who died of wounds at Messines in 1917 and finally the death of her son-in-law Charlie McCarthy who was killed one week before the Armistice at Le Quesnoy in 1918. Her eldest son Edward Heke joined in Australia and fought with the Australian Imperial Forces, before returning wounded. Only her younger brother Thomas Tomlinson came back physically unscathed.
Faced with such tragedy, Grandma O'Donnell decided she would embark on a pilgrimage to visit her sons' graves. Ninety years ago this was a daunting task for a 56-year-old grandmother travelling alone around the world. It was a pilgrimage beset with difficulties and obstacles, but one that she ultimately achieved in 1924, nine years after Jack's death.
At the end of World War I, a War Graves Commission had been set up to identify and bury the thousands still not interred and to honour the memory of all the fallen soldiers with individual headstones and memorials. This took time and visitors were not encouraged.
By 1924 though, Grandma O'Donnell was getting older and felt she had waited long enough. The cemeteries and memorials in Western Europe were mostly finished and the New Zealand Memorial at Chunuk Bair in Turkey was scheduled to be finished in mid-1924. She decided to make the trip, undeterred by warnings from the New Zealand High Commission in London which said the War Graves Commission strongly advised against the visit, particularly to the treacherous and potentially hostile Gallipoli Peninsula.
She set off alone in February 1924, travelling by ship through the Panama Canal to England. The voyage no doubt brought back memories of her trip to New Zealand in 1874, when as a little girl of 6 she had emigrated from Leicester with her parents Peter and Mary Ann Tomlinson.
Now she was aboard another ship, embarking on the first stage of a pilgrimage that had been more than nine years in the preparation. Money was a major consideration as, 90 years ago, only the wealthy could afford such trips.
Grandma O'Donnell, however, was resourceful and entrepreneurial. She had already run her own business as a midwife on an informal basis in Northland and then in 1913 had shifted to Auckland and established their Grange Rd house as a nursing home.
In September 1917, as Nurse C.E. O'Donnell, she endorsed an indigestion medicine in an advertisement which was carried in newspapers throughout the country. No doubt the endorsement fee contributed to Grandma's travel fund. She also had a great deal of support from family and friends, and would eventually visit 32 war cemeteries to pay her respects to the sons of other mothers she knew.
The main reason for her journey was to visit her sons' graves, though. Travelling to Bailleul, where Bill was buried, and to Le Quesnoy, where her son-in-law had fallen, would not be too challenging. But Gallipoli was different. The terrain alone on the peninsula was extremely rugged in comparison with the plains of Northern France.
There were other dangers, too. After the war ended there was a great deal of political turmoil when the Sultan was deposed by Kemal Ataturk. As a result, the work associated with Gallipoli had been impeded and there was also the possibility of another flare-up of hostilities.
It was certainly no place for a woman, let alone one travelling alone. The NZ High Commission was concerned about this slim and still attractive middle-aged woman making this intrepid journey.
But Grandma O'Donnell was too independent and determined to be deterred and set off for France on the first part of her mission to visit Bill's grave in Bailleul. Laying the laurel wreath she had brought from home on his grave must have been particularly poignant for her, because Bill had also fought at Gallipoli and, during his time there, had been able to search out and find his brother's grave and place a cross on it.
The next family grave to visit was that of her son-in-law, Charles McCarthy, at Romeries near Le Quesnoy, also in Northern France.
Then, the last and most difficult part of her pilgrimage lay ahead of her. She travelled in virtually a straight line from France through Switzerland to Venice, then to Trieste and down to Athens where she boarded a ship for Chanak (Canakkale) in Turkey. After landing there she intended to cross the Dardanelles to the Gallipoli Peninsula in a smaller vessel.
Captain Tasman Millington of the War Graves Commission had been advised of her imminent arrival and, in sight of the Gallipoli Peninsula, all seemed to be going to plan.

When she had boarded the ship in Athens, a cholera epidemic was raging. Turkish quarantine regulations forbade any passengers who had embarked in Athens from landing in Turkey. Nobody spoke English, so explanations and pleading were all in vain. Officials were adamant: This lady was not going to get off the ship.
Grandma was not going to give up, though. She went down to her cabin and prayed; then the idea came to show the officials the laurel wreath she had brought from New Zealand to place on Jack's grave.
They immediately understood the reason for the voyage and agreed to her disembarkation, not at Canakkale but into a rowboat which was sent by Captain Millington out to the ship. She was rowed across the Dardanelles to Maydos (Eceabat) where she at last set foot on the Gallipoli Peninsula.
The Turkish officials too were satisfied, as under the Treaty of Lausanne, Gallipoli had been declared international neutral territory - she was no longer their problem.
Grandma O'Donnell praised Captain Millington's hospitality. Millington was an Australian and no doubt the Anzac connection would have made her welcome even warmer.
Having landed at the small fishing port of Maydos, Grandma was then taken 3km north to Kilia, where Millington lived with his wife Ruth in a little English-style cottage.
Grandma stayed with the Millingtons for five days. But her journey was not over: Jack's grave was on the inaccessible Plugge's Plateau. Even today, this cemetery, the smallest of all those at Gallipoli, is difficult to reach, situated at the top of a steep ridge 570m above Anzac Cove. It is this ridge those first Anzac soldiers were aiming for when they climbed the cliff all those years ago.
Part of Grandma's journey would have been made by mule and cart, crossing the mountainous, rugged terrain from Kilia to the other side of the peninsula. She then traversed the last part on foot along the narrow precipitous path that led to Plugge's Plateau.
There, at last, was her boy's resting place - marked by a small wooden cross and a nameplate. There is a photo of her leaning against this cross. Later she wrote beneath the photo: "Dear Jack's resting place, Plugge's Plateau, Dardanelles, Gallipoli. Visited 29 July 1924."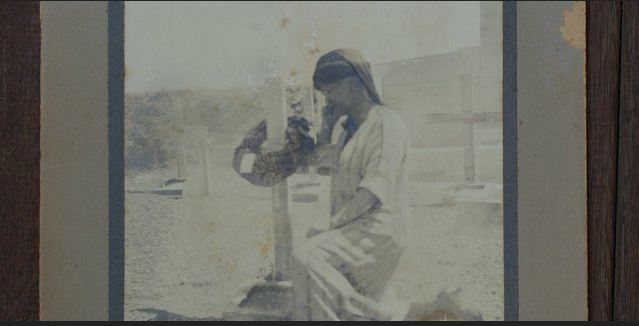 Catherine O'Donnell visited the gravesite in July, 1924
After she laid the wreath and prayed and wept, she must have remarked on the most beautiful view the plateau has, out over the Dardanelles and extending to the islands of the Aegean Sea. What better place for a man born and bred in Northland, where the sea is only ever a few miles away.
Captain Millington then took her to the almost completed New Zealand Memorial at Chunuk Bair, where she was honoured by being allowed to place a brick in that monument. He told her that she was the first New Zealand mother to visit Gallipoli.
After five days on the peninsula, Grandma travelled to Constantinople (Istanbul) where she stayed at the Hotel de Londres and wrote to her family back in Auckland to let them know she was safe and sound - she had achieved her mission and was on her way home. This time there were no problems with Turkish officials and she was able to travel to Port Said in Egypt where she boarded a larger ship for New Zealand.
Grandma O'Donnell had done her duty to her boys, family and the wider community in undertaking this journey to acknowledge their sacrifice. Undoubtedly, there was still grief in her heart but also pride that her boys had done their duty to their country and that in some small way she mirrored that in her accomplishment. She must also have felt peace that they were all in a good place.