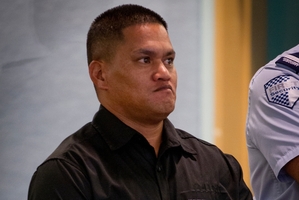 Twice-convicted murderer and rapist Teina Pora has a potential job apprenticeship lined up on his release from prison, new case details show.
The full parole board decision from Pora's successful hearing on Monday was released today. It shows the 38-year-old has been in paid employment in the community as part of the Department of Corrections' Release to Work programme.
Pora, 38, has spent 21 years behind bars for the 1992 rape and murder of Susan Burdett in Auckland.
During that time, he has been part of the Release to Work programme, which allows minimum security prisoners like Pora to work in the community in order to help them gain employment when they are released.
"His employer speaks highly of him and is interested in giving him an apprenticeship, but only 'when all the hype and attention has settled down'," the parole board decision stated.
As part of his parole conditions, Pora has agreed to to a special condition preventing him from communicating with the media.
The board granted Pora parole after they deemed he was no longer an undue risk to the safety of the community.
Since Pora was 17, he has spent more than 22 years in prison. Between 15 and 17, he accumulated 66 convictions, the decision stated.
"His reintegration into the community would need to be carefully managed to keep him and the community safe, and to ensure that his reintegration needs are not jeopardised by extraneous pressures," the decision stated.
Before the Parole Board hearing, Pora's bid for bail had been declined by the High Court. Justice Graham Lang ruled on Friday that at present there was no recognised jurisdiction to grant bail to a sentenced prisoner pending appeal to the Privy Council. Prior to that, the Court of Appeal had referred his bail application to the High Court after it found it didn't have jurisdiction to grant bail.
Pora's parole conditions include undertaking appropriate treatment and alcohol and drug counselling.
He must also attend a monitoring and compliance hearing before the Parole Board in September, and reside at a specified address which has been approved by his probation officer. He is not allowed to leave the address between the hours of 9pm and 5am without the permission of his probation officer and an approved sponsor.
Any contact with any victims of his offending is also forbidden unless his probation officer has approved it, the parole board decision stated.
At his first trial in 1994, Pora was found guilty of the murder of Ms Burdett, who was beaten with a softball bat in the bedroom of her south Auckland home.
Pora had confessed to police but a retrial was ordered as doubts began to emerge about his involvement.
However, at the retrial in 2000, Pora was again found guilty.
After Pora's first trial, serial rapist Malcolm Rewa was convicted of raping Ms Burdett.
Rewa's DNA was found at the scene, and at Pora's re-trial the Crown argued the two acted together.
But Pora's lawyer Jonathan Krebs said that ignored the fact they were associated with rival gangs and that Rewa had an erectile dysfunction problem.
That the re-trial jury was not told of Rewa's problem was down to error on the part of Pora's then lawyer, he said.
Pora is due to face the Privy Council in October or November.
Pora's special parole conditions - imposed for 5 years:
* Undertake alcohol and drug counselling
* Complete a budgeting assessment and any follow up counselling
* Attend a whanau hui at an approved venue
* Attend a monitoring and compliance hearing before the Parole Board in September
* Complete any treatment and counselling recommended by the departmental psychologist
* Reside at a specified address, and not move from that address without approval of his probation officer
* Remain at this address between 9pm and 5am unless his probation officer and an approved sponsor has given permission to do otherwise
* Notify his probation officer before he starts, terminates or changes his position or place of employment
* Undertake counselling as directed by his probation officer for parenting skills
* No contact with the victim(s) of his offending, unless his probation officer has given consent