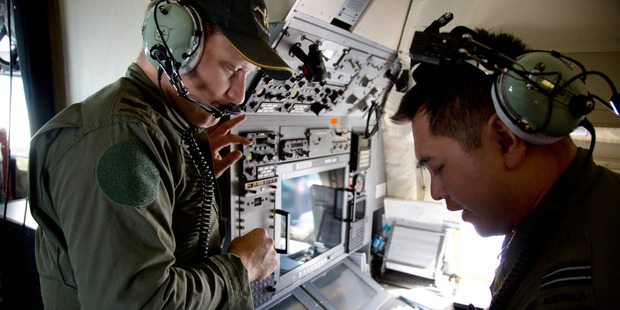 More details are expected to emerge today about items spotted by an RNZAF Orion searching for the missing Malaysian Airlines flight MH370.
Air Vice-Marshal Kevin Short will address media in Wellington this morning about yesterday's sighting in the southern Indian Ocean off the coast of Perth.
The P3 Orion reported spotting a number of white or light-coloured objects and a fishing buoy, according to the Australian Maritime Safety Authority (AMSA).
A Royal Australian Air Force (RAAF) Orion then relocated the objects and reported it had seen two blue-grey rectangular objects floating in the ocean.
AMSA has tasked the Chinese patrol ship Haixun 1, which is in the search area, to relocate the objects today.
The objects could not be verified or discounted as being from MH370 until they were relocated and recovered by ships, AMSA said.
The search area was shifted north yesterday after international air crash investigators in Malaysia provided the latest credible lead to AMSA.
A total of 10 planes searched 256,000 square kilometres, five of which spotted multiple objects of various colours.
A second RAAF Orion spotted various objects of various colours some 546km away from where the RNZAF Orion made its sighting.
AMSA said weather conditions in the area were expected to be reasonable for searching today.
Earlier it was reported that objects have been discovered in the new search area for missing Malaysia Airlines flight MH370, according to the Australian Maritime Safety Authority.
AMSA tweeted that the objects spotted by the RNZAF Orion will need to be confirmed by a ship, which is en route to the area.
The sighting came on the first day of searching in a new area of the Indian Ocean, following new information that prompted authorities to re-focus efforts to locate the missing jet.
Australia says four planes are now searching in a new area in the Indian Ocean for possible signs of the Malaysian airliner that went missing three weeks ago.
John Young, manager of the Australian Maritime Safety Authority's emergency response division, said today that four planes were in the area, and that six ships were headed there.
Officials said earlier that the search zone had been shifted 1,100 kilometres to the northeast after new analysis of radar data suggested the plane flew faster than thought and used more fuel, which may have reduced the distance it travelled.
The search comes as the weather cleared enough today to allow planes to hunt for fresh clues to the fate of the plane carrying 239 people that went missing March 8.
The Australian Maritime Safety Authority said the change came after updated the new information is based on continuing analysis of radar data between the South China Sea and the Strait of Malacca before radar contact was lost with the Boeing 777.
It said the analysis indicated the aircraft was travelling faster than previously estimated, resulting in increased fuel use and reducing the possible distance the aircraft could have flown into the Indian Ocean.
"This is a credible new lead and will be thoroughly investigated today," Australian Prime Minister Tony Abbott said.
"This is an extraordinarily difficult search, and an agonising wait for family and friends of the passengers and crew," he said. "We owe it to them to follow every credible lead and to keep the public informed of significant new developments. That is what we are doing."
Kiwi spotters searching the seas
They stare out at a punishingly unbroken expanse of grey water that seems, at times, to blend into the clouds. Occasionally, they press their foreheads against the plane's windows so hard they leave grease marks, their eyes darting up and down, left and right, looking for something - anything - that could explain the fate of the missing Malaysia Airlines plane.
Watch: Inside a NZ search plane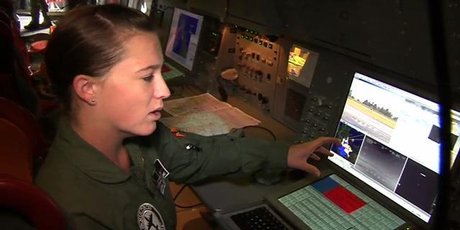 The hunt for Flight 370, which vanished on March 8 during a trip from Kuala Lumpur to Beijing, is complicated in just about every way imaginable, from the vastness of the search area to its distance from land to the brutal weather that plagues it. But for all the fancy technology on board the planes and vessels scouring the swirling waters, the best tool searchers have are their own eyes.
Those eyes can spot things man-made equipment cannot. But they are also subject to the peculiarities of the human brain. They can play tricks. They can blink at the wrong moment. They can, and often do, grow weary.
"It is incredibly fatiguing work," says Flight Lt. Stephen Graham, tactical coordinator for the crew on board a Royal New Zealand Air Force P-3 Orion that has made six sorties into the southern Indian Ocean search zone. "If it's bright and glaring, obviously sunglasses help, but there's only so much you can do."
Search and rescue makes up a small part of what Graham's squadron does, and visual spotting is an even smaller subset of that. But everyone on board has had to learn how to do it - and it's not as simple as most people think. Graham learned as part of a yearlong training stint in Canada, further refined his skills during a six-month course in New Zealand and has had ongoing training since.

Flight Lt. Jayson Nichols looks at a map as he flies aboard a Royal Australian Air Force AP-3C Orion aircraft during a search operation. Photo / AP
Crew members have to know what they're doing, because the electronic equipment on board sometimes doesn't.
"The P-3 has a lot of really advanced sensors and they're really useful in our other roles, but for search and rescue, when you can't guarantee a large or a metallic target, vision is the best that you've got," Graham said at an air base near Perth, Australia.
Inside the shadowy confines of New Zealand's P-3 Orion, the spotters drop into their seats, which they swivel toward the window and inch forward before leaning into the bubble-shaped windows that extend outward from the plane, permitting them to see straight down. When the oils from their skin smudge the window, they wipe away the marks with eyeglass cloths.
There are two spotters on either side of the aircraft. They rest their elbows on a padded shelf, their binoculars sitting at arm's reach. A small pocket near each window contains safety manuals, paperwork and a handful of barf bags. On at least one particularly bumpy flight, the crew had to use them.
They don't have to have naturally perfect vision; Graham, for example, sports brown thick-rimmed eyeglasses and admits his eyesight isn't as good as it once was. But they do need to be able to correct it to 20/20 with contacts or glasses, and they must exhibit excellent attention to detail.
That's because even the tiniest detail could signify their target - white objects, anything angular that might be man-made, anything orange - since aircraft items that are designed to be located are generally yellow or orange. Some of the seaweed in the search area is bright orange, causing hearts to briefly race when it comes into view.
They're trained to constantly move their eyes - in an X pattern, or up and down - whatever keeps them alert, says Ron Bishop, who once trained spotters and was formerly second-in-charge of the US Air Force Rescue and Special Operations School at Kirtland Air Force Base in Albuquerque, New Mexico.
Still, the monotony of the sea can do funny things to the eyes.
"When your eyes sit at a single focus, they do seem to lock into that and it's very easy to glaze over and start missing things," Graham says. "So one of the things we're trained to do is just shift your focal point - so look at the wing tip or look inside just for half a second and then out again, and try and keep your mind active."
No one on board is a designated spotter; everyone rotates positions, which is the best weapon against fatigue. Thirty minutes in the seat is ideal, but they can go up to an hour. Longer than that, Graham says, and effectiveness starts to wane.
Breaks are critical in order to prevent them from slipping into a haze, much like a passenger who starts to daydream while staring out the window, Bishop says.

Royal New Zealand Air force Flight Lt. Stephen Graham walks around their P-3C Orion. Photo / AP
"As humans, we're not really good monitors, we're not really good at sitting in a control room and watching for the gauges to move," Bishop says. "And that's really what you're doing with search and rescue and recovery is you're looking for something."
Satellite images of floating objects that may or may not be debris from the missing jetliner give searchers some guidance on where to look, with the most recent pictures provided by Japan and Thailand. The search zone is located about 2,500 kilometres southwest of Perth.
On a recent flight over the zone, the US Navy's P-8 Poseidon flew in slow, straight, parallel sweeps, scanning the ocean below with both radar and the spotters' eyes.
"Now we're just mowing the lawn," said Lt. j.g. Kyle Atakturk, describing the monotonous search pattern.
A crew member finishes up a one-hour stint at the window, his last for the day. He swivels around in his seat, sitting motionlessly for a moment, face drawn, eyes bulging. Finally, he blinks, shakes his head, and then stands up and walks it off.
Although the crew is kept well-fed and hydrated, there are few opportunities for genuine rest periods, Graham says. Whenever a spotter finishes a shift at the window, another job awaits - from navigating to tactical coordination. Rotations are done during the few minutes when the plane is turning around after a sweep, and spotters don't move from the windows until another crew member is standing directly behind them, ready to slide into their seat.
The weather further complicates their jobs. When it's calm and the seas are glassy, anything unusual is easy to spot. When the wind is up and the waves are high, the added motion and colour from the whitecaps are a distraction. The speed of the aircraft, too, means there is little time to verify what an object is before it has slipped from view.
Such factors have made the hunt for Flight 370 a logistical nightmare. On several occasions, planes and ships trying to get a closer looks at objects that another plane has spotted earlier have failed to find them.
"There are stories (in other searches) of people trying to relocate somebody even in a life raft - which is a fairly large and coloured target - and needing six or seven passes to get the aircraft back on top of it," Graham says.

A woman breaks into tears as she places a paper crane as a symbol for hope and healing during a ceremony in memory of passengers on board Flight MH370. Photo / AP
The job can be tedious, but then there's an unbeatable rush of adrenaline when they catch a glimpse of something below. Chatter picks up pace and volume. Hearts pound.
"Thinking about that is what keeps you going over what can be really, really long and quite dull missions at times," Graham says. "Is it going to be behind this next wave?"
The search for Flight 370 remains a huge, complex mission, but for Graham, it's not an impossible one. They have hunted for tiny targets across massive areas before. And sometimes in the haystack, the needle emerges.
"You might be looking for a single canoe in the vastness of the Pacific and we do find them," Graham says. "So there is always hope."
Satellites spot 300 more objects
Another 300 pieces of suspected debris have been spotted in new satellite images from the Flight 370 search zone.
Authorities said the items had been detected by Thailand's space agency and were about 2700km southwest of Perth and about 200km away from the area where a French satellite had spotted 122 floating objects early this week.
The new objects ranged from 2m to 15m in size, officials said, but it was unclear whether they belong to the missing Malaysia Airlines aircraft.
The space agency's executive director, Anond Snidvongs, said: "We cannot - dare not - confirm they are debris from the plane."
Japan also said it provided Malaysia with information from satellite images taken Wednesday showing about 10 objects that might be debris from the plane, with the largest measuring about 4 meters by 8 meters (13 feet by 26 feet).
The objects were located about 2,500 kilometers (1,560 miles) southwest of Perth, Japan's Cabinet Intelligence and Research Office said.
Son defends Captain Zaharie
The latest information came after Ahmad Seth Zaharie, 26, said he did not believe his father, long-time pilot Captain Zaharie Ahmad Shah, had deliberately taken the plane down.
"I've read everything online. But I've ignored all the speculation. We may not be as close, as he travels so much, but I understand him," he told the New Straits Times.
On Tuesday, the Herald carried an interview with a friend of Captain Zaharie who said he believed the pilot was in "no state of mind" to be flying an aircraft because of personal issues he was going through.
Ahmad Seth Zaharie - the youngest of the captain's three children - said his family had not yet accepted that the plane had crashed, killing all 239 people on board.
"Now, we are just waiting for the right confirmation. I will believe it when I see the proof in front of my eyes," he said.
Meanwhile, crews looking for Flight MH370 were forced out of the search area yesterday by bad weather just as the satellite images showing hundreds of scattered objects gave fresh hope that the hunt for the aircraft may be over.
Heavy rain, strong winds and low clouds meant the conditions were too dangerous for aircraft and ships to be in the area. The choppy conditions - which also affected search missions earlier this week - reduced visibility significantly.
A total of 11 planes and five ships had initially planned to scour the area.
Earlier, the Royal NZ Air Force team involved in the searching were said to be encouraged by the reports of new objects being found.
Air Commodore Mike Yardley told Radio NZ yesterday: "If any of the spirits were flagging, this will be a great boost to that and renew everyone's interest."
New crew on mission 'very keen' to play their part
The New Zealand Orion aircraft being used to find debris of Malaysia Airlines flight 370 is world-class, and the new crew on the mission are eager to start their work, according to their commanding officer.
Wing Commander Rob Shearer, who leads the Royal New Zealand Air Force (RNZAF) Airborne Surveillance and Reconnaissance Force, Squadron Five, said the 12 crew leaving tomorrow were keen to join the search.
Wing Commander Shearer told a media briefing at Whenuapai Air Base yesterday that the crew, who left at 2pm, will start their search missions today in the Orion P-3K2 equipped with world-class technology. A radar, camera, and viewing decks on board the aircraft have been recently upgraded and are state of the art.
"This is a great opportunity to go out there and prove what we do," Mr Shearer said.
"We are very, very keen to help."
- AP, additional reporting NZ Herald, APNZ