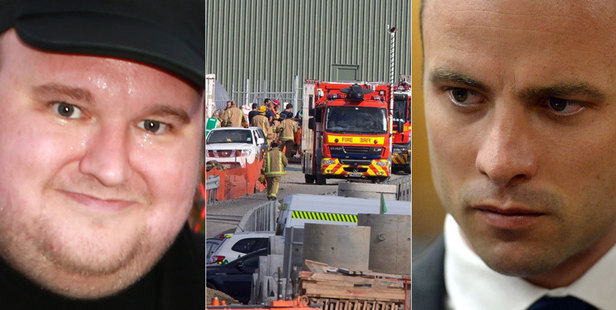 Here are the top news stories today, upcoming events and the stories that will be talked about tomorrow:
More than two weeks after Malaysia Airlines Flight 370 disappeared, searchers are racing to locate the jet's black boxes before the battery-powered ping they emit fades.

Photo / AP
The father of a young Auckland mother who died in hospital two days after complaining of a sore arm says Middlemore Hospital staff failed to tell him how serious her condition was.
One of the main shareholders of the company Mega plans to use to achieve a listing on the stock exchange is facing market manipulation charges in Australia. The online-storage company Mega - launched by Kim Dotcom last year - is doing a back-door listing on the New Zealand stock exchange.
Read more: What is a back door share market listing?
Cordons have been lifted in parts of Auckland affected by a serious chemical spill today. Fire communications shift manager Scott Osmond said 15 fire crews were still at the scene cleaning up hydrochloric acid at the Waterview tunnel construction site, however residents are returning to their homes.

Emergency Services at the scene after the chemical spill. Photo / Brett Phibbs
A drunken airline passenger who lit a cigarette and claimed to have an AK-47 assault rifle in his bag has been fined $500 and banned from the airline for his return trip home. The man, an Australian aged in his 30s, was escorted off the Jetstar flight by police officers once it landed at Christchurch, from Melbourne, on Monday morning.
The suspected Morsi backers, accused in a deadly police station attack, represent the biggest batch of death sentences in the world in years, Amnesty International says.
In the weeks before Oscar Pistorius fatally shot her, Reeva Steenkamp texted him to say: "I'm scared of u sometimes."

Oscar Pistorius leaves the high court in Pretoria, South Africa. Photo / AP
That's how volunteer searcher Cory Kuntz describes the Washington state mudslide that claimed the lives of at least 14 people and left some 100 others unaccounted for amid piles of debris.
The operator of the train that jumped the tracks and scaled an escalator at one of busiest airports in the US could have dozed off, the transit union says.

A Chicago Transit Authority train car rests on an escalator. Photo / AP
Editor-in-chief Anna Wintour has defended her decision to put Kanye West and his fiancee Kim Kardashian on the cover of US Vogue magazine.
Read more: The five most controversial magazine covers
- AP, APNZ, nzherald.co.nz