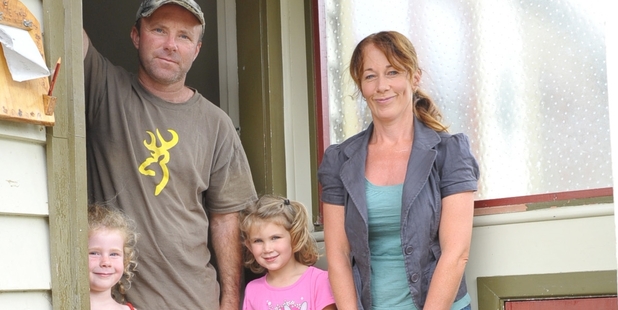 Thieves who broke into a Masterton home in broad daylight not only cleaned it out of valuables but bashed two pets into submission.
Bruce and Rebecca Robertson lost chattels worth thousands of dollars including computers, television and cameras and their passports, and a valuable family heirloom.
Heartbroken as they are about the losses the couple are outraged that the intruders bashed their two dogs, a sheepdog named Pepper and an old labrador, Penny.
Whereas the old labrador was beyond putting up much of a fight the younger dog could be reasonably aggressive but was discovered dazed and bashed after the thieves had fled the West Bush Rd property.
Pepper was found lying dazed in a rose garden with welts to the head and there was evidence that Penny had also been hit.
The Friday morning raid was the latest in a line of brazen burglaries in Masterton and the break-in was discovered by the couple's 17-year-old son Kane who happened to return home to find the house ransacked and gear stolen.
Mr Robertson, a builder, said the thieves had smashed through the backdoor before snatching the valuables.
They had emptied every cupboard and drawer, leaving piles of clothing and household goods scattered about.
Among the items stolen was a unique, historic satchel that had belonged to Mr Robertson's grandfather.
It had his initials DJR on the cover and inside was an invaluable collection of photos dating back decades, both historic photographs and family snaps.
Mr Robertson said the theft of those items had upset him deeply.
The couple's passports, including some that had expired, were stolen and a laptop computer that contained family photos of a holiday they had just taken.
Mr Robertson said he and his wife were hard-working.
"We don't have a lot of money and we work hard for what we have and then these buggers come in and rip you off," he said.
He said it worried him that Rebecca - who works in the early childhood sector - could have returned home with their daughter Danielle, 4, to be confronted by the burglars.
"People who are willing to bash pets are capable of bashing people too," he said.
In the aftermath of the thefts people in the area have reported seeing a vehicle close to the Robertson home and have given a description which has been passed on to police.
Mr Robertson said the break-in was thought to have happened between 10.30am and 11am and he would like to think others who noticed the vehicle or suspicious behaviour would contact police.
Fingerprint experts have dusted the house and photographs of the damage to the back door have been taken.
For more articles from this region, go to Wairarapa Times-Age