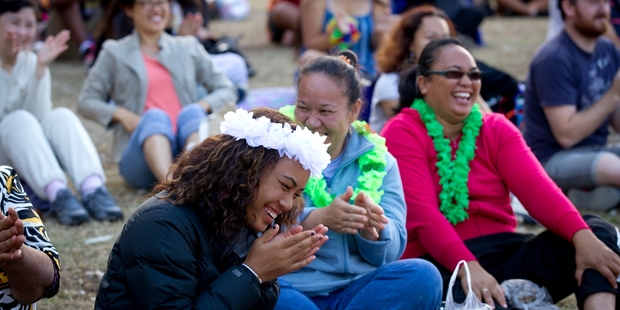 Pasifika 2014 proved a big hit for the tens of thousands who headed to Auckland's Western Springs Reserve for the two-day event.
Organisers - who focused on providing an authentically Pacific event - say this year's festival attracted a large number of tourists, Pakeha, Asians and other non-Pasifika peoples.
Director Stan Wolfgramm said Saturday, traditionally the busiest day, once again brought in big crowds.
But yesterday's event - only the second time Pasifika has extended to Sunday - had also attracted a decent crowd.
"There are definitely more families here, a lot of prams around. We've had big crowds and this is definitely a bigger Sunday crowd than we had last year."
An interdenominational church service yesterday was followed by more traditional dancing and performances on the 11 stages.
Among those giving it a go on the Cook Island stage was Abhyankai Kalyani, who wasn't afraid to shake her hips alongside dancers in traditional outfits.
With 200 craft stalls, 100 food stalls and 1000 performers, there was no shortage of entertainment.
The inclusion of a Hawaiian village - joining villages from the Cook Islands, Niue, Samoa, Aotearoa, Tonga, Kiribati, Tokelau, Tuvalu, Tahiti and Fiji - had been a particular highlight, Mr Wolfgramm said.
"That was a very popular space this year. The audience loved that it was something different and new. There was a lot of love for the Hawaiians."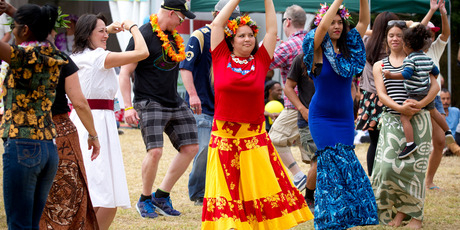 A number of politicians also used the event to meet the community.
Prime Minister John Key made an appearance on Saturday morning, mingling with members of the public and stall-holders at a number of the villages around the park.
Labour leader David Cunliffe and retiring Maori Party co-leader Tariana Turia were there, as was NZ First leader Winston Peters, who was understood to be a big hit at the Cook Islands village on Saturday.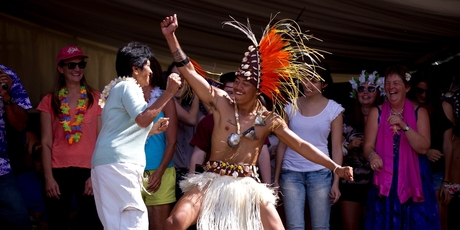 It was also new Pacific Island Affairs Minister Peseta Sam Lotu-Iiga's first real chance to meet his community. He took part in yesterday's combined Pacific Island church service alongside Auckland Mayor Len Brown.