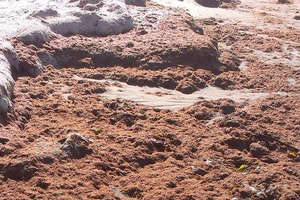 Scientists are investigating strange clumps of red and fluffy seaweed that caused a stink at a Coromandel beach this week.
Residents of Whangapoua reported the smelly seaweed to authorities after it invaded the holiday spot for the second time within a few months.
By this morning, much of the weed had dispersed, but in days before it had piled so thickly on the beach that it was knee-deep in places.
One resident said some had waded through the weed to find clear patches of surf to swim in, "but I wouldn't swim in it".
NIWA scientist and seaweed expert Wendy Nelson, who was analysing samples sent to her, said the weed was likely the native Spyridia filamentosa.
"It's not toxic, but in the quantities it's been found, it can cause a big mess. It's also a real nuisance when it rots away as it's quite smelly."
Deposits of the weed were found from time to time around the upper North Island, but she was unsure what had caused the latest bloom.
"It's probably a combination of water conditions, temperature and the wind bringing it on shore."