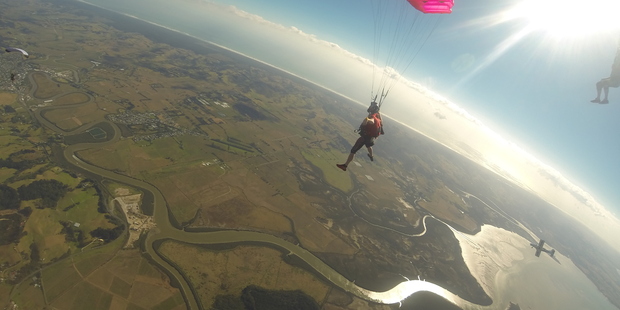 Champion US skydiver Nick Batsch has set a New Zealand long distance swooping record this afternoon.
The world record-holder travelled around 220 metres across the ground at Skydive Auckland, Parakai Airport, hitting a personal best.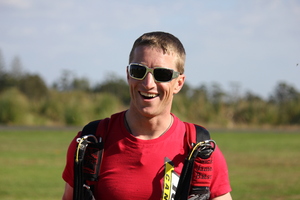 Long distance swooping is when a skydiver gets close to the ground and uses their speed to travel horizontally.
The record - a first for New Zealand - surprised even Batsch, 32, who said he did not expect to travel so far at sea level.
"It was much further than I actually anticipated coming here, because it's sea level and at sea level the parachute's a little bit slower because of the thicker air," he said afterwards.
"It's actually really surprising, I'm super, super happy."
He described it as a "very successful day".
It's the pro skydiver's first trip to New Zealand, one he's been planning for years given he relies on Kiwi-made parachutes to get him back down to earth safely.
He took the opportunity to meet some of the team at NZ Aerosports which make his parachutes, and will also be giving some coaching lessons in the next few days.
The beautiful scenery has already won him over.
"It's super pretty, it's gorgeous and the air's real clean, and nice and fresh," he said. "So I'm very much excited to be here."
He added: "My favourite part of my job is I get to see some of the most amazing places in the world, and from above too."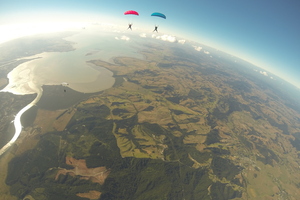 Batsch will spend two more days in Auckland before travelling to Australia for three weeks, mostly to work, before an eight day holiday - four days in Sydney, and four in Queenstown.
"I've really wanted to come for a very long time, but it's just been a timing issue with work."
His hectic schedule will see him jetsetting to Dubai, then his hometown of Colorado in the United States, before hitting Denmark, Sweden, and Norway, Spain and the Czech Republic in the next six months.
Despite the jetlag, he said the travel was "a pleasure".
"It's what I love in life, and I couldn't ask for anything more than to do what I love in life for a living. I'm pretty blessed with that."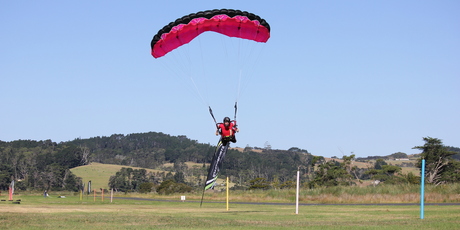 - APNZ