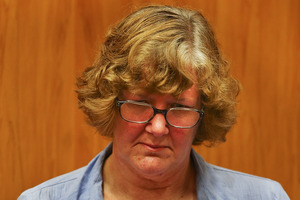 Murdered Christchurch man Philip Nesbit's sister says she will ensure his killer never gets out of jail.
Speaking after Helen Milner, 50, was sentenced to jail for at least 17 years, Lee-Anne Cartier said the minimum non-parole period for Milner's life sentence didn't matter.
"She's got a life sentence," Ms Cartier said, clutching her brother's ashes in a small white casket.
"I'll attend every Parole Board hearing and she will never walk the streets of New Zealand again."
Milner, dubbed the "Black Widow", was found guilty by a jury in December of murdering her 47-year-old second husband in 2009 by poisoning him with the allergy drug Phenergan.
She was also found guilty of attempted murder.
In the High Court at Christchurch today, Justice David Gendall sentenced Milner to the statutory life imprisonment and imposed a non-parole period of 17 years.
He also sentenced her to six years' jail on the attempted murder charge, to be served concurrently, and gave her a "first strike" warning.
Justice Gendall said Milner's offending was committed "simply for financial gain" and to rid her of a husband she no longer wanted in her life.
He said Milner previously told many people she wanted to kill Mr Nisbet and noted that was "rare" in cases of murder. It may have been that she talked herself into killing him after the suicide clause in her husband's life insurance policy had expired.
Mr Nisbet was "particularly innocent", he said, and had given Milner no reason to want him killed.
Justice Gendall agreed with the Crown's submission that Milner's actions were "a carefully thought through and calculated plan with callous disregard for Mr Nisbet's family and friends".
Milner murdered Mr Nisbet and then wrote several suicide notes to deceive his family, friends and police into believing his death was self-inflicted. Police initially decided the death was suicide, and only reopened their investigation after a coroner raised doubts.
Murder by poisoning was regarded as "the most despicable of crimes", Justice Gendall said.
Several members of Mr Nisbet's family read victim impact statements during the sentencing.
Ms Cartier, who lives in Australia, said she had "an amazing relationship" with her big brother.
"I'll always have wonderful memories of a loving brother and father. Not only have I lost a brother, but my children have lost an uncle," she said.
Milner, Ms Cartier said, had destroyed any "future memories" and taken years off her elderly parents' lives.
Mr Nisbet's 81-year-old father, James, and 80-year-old mother, Yvonne, told how their son's murder had affected their health and how it had been "heartbreaking" to hear of Milner's lies and deceit during her trial.
"It makes me sick to know that Helen was comforting me knowing that she'd killed my son," Mrs Nisbet said.
On the courthouse steps, Ms Cartier - whose own detective work helped uncover Milner's crime - declined to discuss her claim for compensation from the police.
"We'd like to thank everyone for their support through this, the police's hard work and the wonderful jury who came here every day and listened to it, and came back with their verdict," she said.
She said her brother "could finally now rest in peace because it's over. Phil's got closure, we've got closure."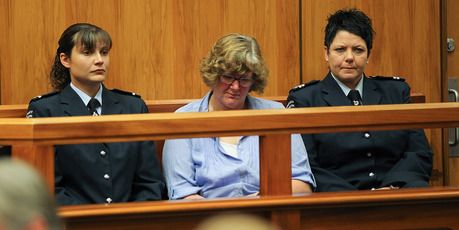 Mr Nisbet's younger brother Andrew said: "We're finally pleased to have justice for our brother, for Phil."
"It's great for mum and dad to have closure."
The Crown proved Milner laced Mr Nisbet's evening meal with drugs and, while he was heavily sedated, probably finished him off by smothering him with a pillow.
Milner then tried to cover up the crime by forging several suicide notes and text messages.
She might have got away with murder had it not been for painstaking detective work by Ms Cartier, who raised concerns with a coroner in late 2010, leading police to reopen their botched investigation.