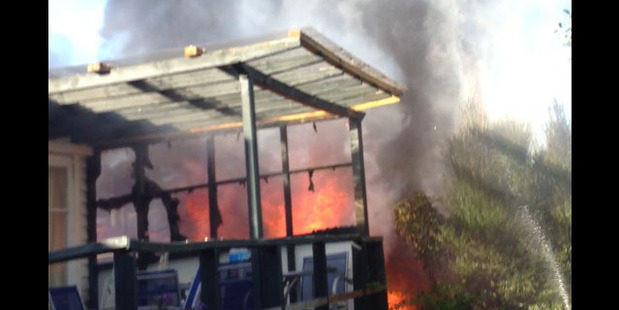 Neighbours rushed to the rescue of an Auckland woman's home as rubbish piled up in the backyard burst into flames damaging the next-door property this morning.
Fortunately both owners of the New Lynn houses were out when the fire took hold shortly before 9am.
Concerned neighbours ran to the Hutchinson Ave property and began battling the flames as others banged on windows to check whether anyone was inside.
Fuelled by rubbish and debris stacked in the yard, the blaze swelled higher than the single-story house, Fire Service said. It then spread to the neighbouring property's deck.
The owner, said to be a woman aged around 55 to 60 years, was described as a hoarder by neighbours. Items could be seen strewn all around the property and stacked up inside the house, with one person reporting she could only access her home through a window.
Neighbour Joel Glanville, 19, was first on the scene. After ringing 111, he grabbed a hose and began dousing the blaze.
"I woke up to massive bangs, I came outside, looked and saw the smoke in the centre of both sections,'' he said. "I called 111, put some shoes on, ran over and started spraying with the hose.''
Other neighbours helped, with at least two hoses trying to dampen the flames which were threateningly close to the house.
John Haurua began banging the windows after being woken by his wife who saw the smoke.
It was difficult to tell if the occupier was at home, because the windows were blocked by cartons and other collected items, he said.
"I was with a couple of other neighbours and some passersby, and we just tried to gain entry, but without any luck,'' said Mr Haurua.
Firefighters quickly arrived on the scene, with three trucks to tackle the blaze.
Glen Eden fire officer Terry Batt described the incident as a "large rubbish fire''.
He said the flames were the height of the eaves of the house when firefighters first arrived, but quickly doubled in height, reaching as tall as a nearby palm tree before they were able to get in under control.
It was initially reported as two houses on fire, because the blaze was so big it looked like it had spread to the adjacent property, he said.
Both the neighbour's and the property owner had a lucky escape, as firefighters were able to keep the flames from spreading to the homes. However, the neighbour's decking area was damaged. It could be seen blackened and burnt from the roadside.
An investigation into the cause of the fire would be difficult to determine because of the amount of rubbish, Mr Batt said, some of which may contain asbestos.
Both Auckland Council and police would be notified of the incident.
- APNZ