Members of fund to bankroll Kiwi's return to 'Sin City' gather to view the league...and their returns.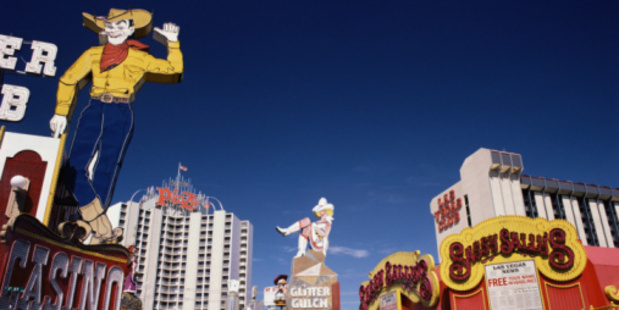 A birthday bash in Las Vegas has spawned one of New Zealand's most successful investment funds, and the Auckland Nines tournament is being used as a drawcard to get members to their annual meeting.
The group of about 20 Kiwis held collective 30th birthday celebrations in 2007 in a city their website describes as "built upon sand, broken dreams and five-dollar lobster, where you can get a happy ending, but only if you pay a little extra" - and pledged to return to the City of Sin and do it all again 10 years later.
To help make the dream a reality, the Canterbury University graduates set up an investment fund, putting money into the sharemarket, livestock and sports betting. Returns over the past few years have been running at around 40 per cent, and this year they've decided to hold their annual general meeting at the NRL Auckland Nines.
The Vegas Reunion Trust's accounts show the group's investment of $28,839.19 had returned a post-tax profit of $9567.80 as of last year.
"Everybody's happy, that's for sure," said James Hunter, a member of the trust's investment committee.
Each year the group of engineers, lawyers, accountants and farmers meets for an AGM - "basically a booze-up but we receive some ideas for new investments and review how the year went".
This year's AGM venue has resulted in a record turnout of 20 of the 27 members.
"Normally the AGMs aren't that well attended but this year, given the occasion and a bit of early warning, everyone seems to have got their act together," said Mr Hunter.
"We'd been thinking about doing the sevens for a while then the nines came along and we thought 'we'll jump on that then'."
While most of the fund's returns have come from prudent share and livestock investments, the "high risk" sports betting has also borne fruit.
But a big chance of hitting it big slipped through its fingers.
A few years ago they invested in Xero shares, buying at $3.60. They agreed to sell if they hit $4.60, making a tidy profit of $1 a share. Xero shares are now trading at $40.
"We sold out of that prematurely, which was disappointing," said planning committee member Nigel Chenery. "We would have stayed at the penthouse of the Bellagio. Instead we'll be back at the Hard Rock."
While they have allowed mates to buy into the fund over recent years, it remains a boys' club planning a boys' trip, which hasn't gone down well with some of the members' wives and girlfriends.
Suggestions the funds might be better spent on family holidays had not been universally embraced.
"There is a bit of tension there, to be perfectly honest," said Mr Chenery.