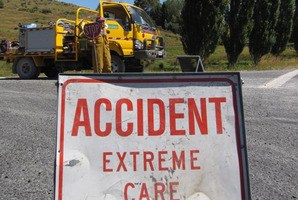 The 52-year-old wife of the driver who died when a van crashed into the Mataura River in Southland yesterday afternoon is expected to be released from hospital today.
Police are yet to release the name of her 59-year-old husband because they are still working to notify next of kin overseas. He was a Canadian national from Toronto.
The woman suffered neck injuries in the crash on Nokomai Rd.
The couple's two children, aged 12 and 14, were discharged from Southland Hospital last evening.
Two women, aged 68 and 55, who were admitted to Dunedin Public Hospital last evening were expected to be discharged today.
The remaining passengers received medical treatment but were not admitted to hospital.
The family group of 10 people, ranging in age from 12 to 68 years, were travelling on Canadian and Chinese passports.
A serious crash investigator completed his work at the scene yesterday.
Initial indications are that the van clipped the edge of a bridge and then crashed over the roadside into the river.
- APNZ