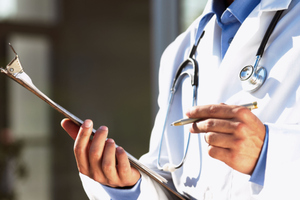 A 48-year-old mother of two who died from a massive brain bleed less than 24 hours after seeing a doctor received inadequate treatment from two physicians, the health industry watchdog has found.
The woman, known only as Mrs A, died in early 2011 from a large subarachnoid haemorrhage.
The day before her death, she was taken to an after-hours medical centre by her friend due to a sudden and intense headache. According to Mrs A's friend, she also vomited and passed diarrhoea before being taken to the medical centre.
A report from Health and Disability Commissioner Anthony Hill, released today, details the failings in care given to Mrs A. It primarily holds the GP who first saw Mrs A responsible. However, it also highlights problems with nurses and a second GP at the medical centre, who also saw Mrs A.
Mr Hill's report states that Dr D, whose name has been suppressed, failed to obtain a full history of Mrs A, including the fact that she smoked around 30 cigarettes a day.
She also failed to comply with the medical clinic's policy for the management of sudden onset headaches, which stated patients - like Mrs A - should have the possibility of a brain bleed included in their diagnosis and have their case discussed with the on-call medical registrar.
While Dr D told Mr Hill she had performed a full history and examination of Mrs A, leading her to believe the symptoms were due to a migraine, both Mr Hill and GP Dr David Maplesden - who gave expert advice on the case - found this to be incorrect.
Because of this, Mr Hill found Dr D failed to exercise reasonable care and skill and breached the code of Health and Disability Services Consumers' Rights.
In his report on Mrs A's case, Mr Hill also reviewed care provided by a second GP, known as Dr E. Dr E was asked to monitor Mrs A about 30 minutes after she was brought to the medical centre as he was taking over from Dr D on the evening shift. Dr D had already prescribed medication to Mrs A for a migraine.
Because he relied on Dr D's initial assessment of Mrs A, Mr Hill accepted Dr E's failings did not breach the code of Health and Disability Services Consumers' Rights, but noted "Dr E displayed a lack of critical thinking" in the case.
"Had Dr E simply confirmed whether Dr D had followed the clinic's policy for the management of sudden onset headache by discussing Mrs A's case with the on-call medical registrar, he would most likely have been prompted to fully assess Mrs A rather than accept Dr D's diagnosis," Mr Hill stated.
The treatment of Mrs A at the clinic by nurses was also called into question, when evidence from her friend indicated they felt like a nuisance while at the practice and received little help from a nurse.
Mrs A died the morning after she was seen at the medical centre. She had decided to return home from the clinic after feeling a bit better. However, her husband found her lying on the floor of their son's bedroom about 7am the next day. Ambulance staff called to the couple's home took her to hospital where a CT scan revealed a brain bleed. Due to its extent, the decision was made not to treat her actively, and she died later that morning.
****
Follow-up actions:
* Dr D and Dr E have apologised to Mrs A's family
* Dr D and Dr E told the Health and Disability Commissioner they now have a lower threshold for referring patients presenting with headaches to secondary care
* Dr D has attended a course addressing problems identified by the HDC report
* The on-call medical clinic Mrs A attended have also changed their policies to address problems highlighted in the HDC report. This includes new policies around management of patients who present with sudden onset headache and the attitude of its nursing staff
Source: Health and Disability Commissioner
- APNZ