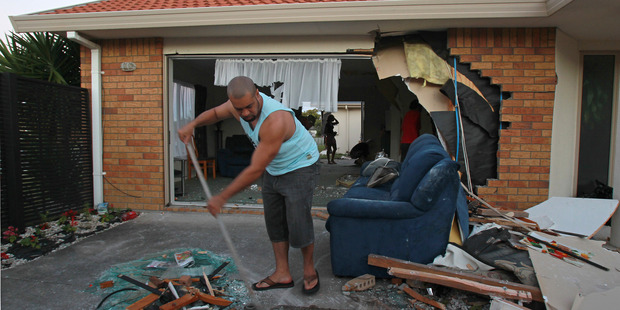 A Papamoa woman caught drink-driving after she lost control on a slight bend and hit another car, before smashing into and through the side of a house, did not have a driving licence.
Sarah Koroi, 23, pleaded guilty to charges of driving in a dangerous manner and driving with an excess breath alcohol in Tauranga District Court today.
The court was told just before 7pm on November 21 Koroi was speeding down Gravatt Rd when she lost control on a slight bend, and collided with an oncoming car, then left the road.
Koroi's out-of-control car has then careered across one property, before crashing through the neighbouring house, and exiting through the dining room and lounge area.
When breathalysed Koroi was found to have an excess breath alcohol reading of 590 micrograms per litre of breath - the adult legal limit is 400 mcgs.
The house was extensively damaged and $53,000 reparation is being sought.
The insurance company of the other damaged vehicle is seeking $4732.23 reparation Koroi does not have a driving licence, and there was a passenger in her vehicle.
Koroi's lawyer Jason Owers told Community Magistrate Robyn Paterson that his client wanted to participate in a restorative justice meeting with her victims before sentencing.
A means test assessment would be required to assess Koroi's ability to repay the reparation, he said.
Mr Owers said Koroi as she was still looking for a job, after recently moving to Tauranga from Whangarei to make a fresh start.
Mrs Paterson further remanded Koroi on bail for a probation report, restorative justice report, and sentencing on March 7.
For more articles from this region, go to Bay of Plenty Times