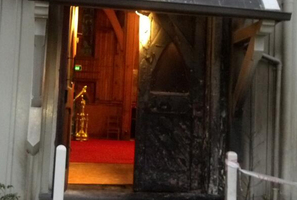 Firefighters were called to two suspicious blazes in Auckland this morning, including one at a cathedral.
The fire, lit just before 4am, damaged part of St Mary's, which serves as the church at Holy Trinity Cathedral in Parnell.
Dean of Auckland Jo Kelly-Moore, who lives on the site, said it appeared someone lit the fire deliberately but it did not cause too much damage.
"Fortunately, from our house, it was audible and visible. We were able to call the fire brigade and with the use of some fire extinguishers and the brigade's hoses it was quickly brought under control."
Reverend Kelly-Moore said although one porch and a set of doors had been burnt there had been no structural damage.
"St Mary's is a wonderful treasure. It was built in 1866 and is a very important place for lots and lots of people. Those things are always shocking. We're very grateful today that the end damage is ... minimal."
About two hours later two fire engines were called to a blaze at a vacant house on Waikaukau Rd, Glen Eden.
The fire caused considerable damage to the rear deck and porch.
The fires come two days after an arson attack at Richmond Rd School in Ponsonby destroyed a toilet block and damaged classrooms.
Fire investigator Ian Wakely said the method used to start the Glen Eden fire had yet to be determined but it was no accident.
"I've not linked it to any other [suspicious] fire, but that's not to say it isn't."
Police want the public to report any information about the church fire to Auckland CIB on 09 302 6516 or Crimestoppers, anonymously, on 0800 555 111.
- APNZ