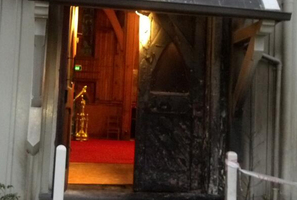 A fire lit in the early hours of this morning has damaged part of Auckland's St Mary's church.
Emergency services were called to St Mary's, which serves as the Holy Trinity Cathedral church in Parnell, just before 4am.
Dean of Auckland Jo Kelly-Moore, who lives on the site, said it appeared someone had purposely lit the fire at the church, however it had not caused too much damage.
"It appears that someone has attempted to light a fire adjacent to St Mary's. Fortunately from our house, it was audible and visible. We were able to call the fire brigade and with the use of some fire extinguishers and the brigade's hoses it was quickly brought under control."
Reverend Kelly-More said while one porch and set of doors had been burnt in the fire, there had been no structural damage to the church.
"St Mary's is a wonderful treasure. It was built in 1866 and is a very important place for lots and lots of people. Those things are always shocking.
We're very grateful today that the end damage is there but is minimal."
The church would likely remain closed for the clean-up today, Rev Kelly-More said.
Fire Service northern communications shift inspector Jaron Phillips said ventilation was also performed by those who attended the scene.
Multiple calls were made to the fire service about the blaze, he said.
- APNZ