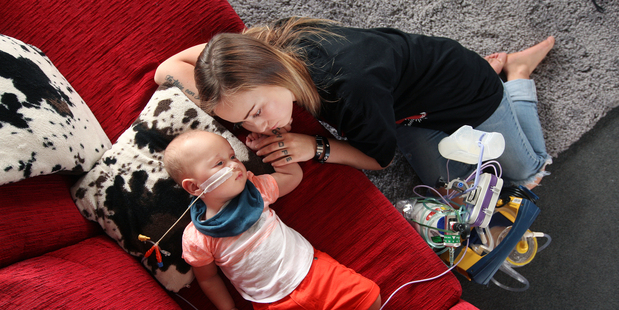 Little 1-year-old Teimana Emery-Maaka is facing an uncertain future - but that isn't stopping his parents making the most of every day with their precious boy.
Rebecca Malcolm shares their story about mitochondrial disease.
For six months Teimana Emery-Maaka was a "normal" baby. He chatted lots, was starting to eat solids and was a big smiler. But mum Levi Emery always had an inkling something wasn't right.
She took him to doctors but the young, first-time mum was told nothing was wrong.
Then at about 6 months old he slowly started to change.
He stopped smiling and laughing, started to lose his milestones and began having seizures.
By the time he was 9 months the family wound up in Rotorua Hospital, and a few days later in Starship hospital in Auckland where he was diagnosed with mitochondrial disease.
It was a diagnosis that has changed life drastically for the family - and has left Levi fighting to make precious memories with her son and raise awareness of the disease she knew nothing about.
Mitochondrial disease is a genetic disease and the type Teimana has - 100 per cent Leigh disease - doesn't have a great prognosis.
Typically it appears in infancy or childhood, often after a viral infection, but it can occur in teens and adults.
The onset causes damage to the tissue, particularly in the mid-brain and brain stem, and symptoms include the loss of basic skills like sucking and head control, seizures and eventually organ complications.
Doctors have told Levi and partner Rico Maaka that Teimana's life expectancy is probably between one to two years, although there is a chance he may make it to his teens.
"We are hoping that he proves them wrong and living each day as it comes, giving our son the best possible life that we can."
It has transformed Levi from a typical first-time mum to somewhat of a medical expert.
She knows how to put in the nasal gastric tube which feeds Teimana, can operate a suction and oxygen machine like a nurse and is quickly becoming an expert on the nine medicines he takes daily.
On any trip away from the house there's an array of medical equipment that needs to be taken too - the feeding machine, suction machines, oxygen machines as well as portable emergency kits.
And a bag is always packed in case they wind up in hospital.
Then there's the thick medical file that Teimana has amassed that goes everywhere with them.
To most people it might sound like an almost unbearable burden, but Levi isn't one to dwell on the situation.
When pressed she admits she's had some days where she's questioned why they've been dealt the hand they have.
And she admits to getting teary while making plans for if Teimana gets worse and planning his funeral. But most of the time she tries not to get too upset.
"There is always hope. All the love and support that he gets, he'll feel that."
Instead she says she draws strength from her wee fighter.
"The start was pretty bad. For about half an hour I got really down then I just got this feeling that I needed to stop it and be strong.
"I just did what I had to do and learned everything."
At his worst he was having up to 57 seizures a day but Levi says these days, although seizures still happen almost daily, he has improved.
Being too hot or too cold can trigger seizures, as can too much noise and stimulation such as television.
There have been a couple of "really scary" seizures but most she deals with as part of the daily life.
Teimana rarely cried before his illness, but Levi says he stopped completely a few months ago and now the sounds he makes during his seizures are one of the only times they get to hear his "voice".
"It's kinda cool in a way as you get to hear his vocals. When you have a baby you want them to stop crying and now I want him to cry."
They've started giving Teimana a small bit of iceblock and Levi says he's started swallowing a little which is a really positive sign.
Levi says one of the difficulties around Teimana's disease was the lack of awareness.
She's trying to change that through sharing her story and fundraising efforts as well as organising a walk to get the disease out there.
"It not actually a rare disease - it's just not known about."
Meeting other parents of children with mitochondrial disease has been a big bonus, says Levi. She met one mother who lost a child to the disease and has a second one with it and Levi says that inspired her to be strong.
Now she's focusing on quality, not quantity, of life for Teimana. "None of us really know when our time is up."
She says they're paying for three extra drugs which doctors have said may or may not help their baby. The drugs are not funded and are costing the family more than $200 a month, but she believes they're making a difference.
Although they have to keep Teimana away from anyone who is sick because he has a weakened immune system, they try to get out and about as much as they can.
"We just have to take every day as it comes. You can plan things but not really. You just have to see how he is."
Levi says doctors aren't sure whether he'll regain any of the milestones he's dropped.
"They don't say he won't be able to do them again but they don't say he will either."
At the end of December he celebrated his first birthday so Teimana is already proving the doctors wrong, Levi says.
As for her, she's certain his illness has changed her attitude and outlook.
"I think it's probably made me a better person."
For more articles from this region, go to Rotorua Daily Post