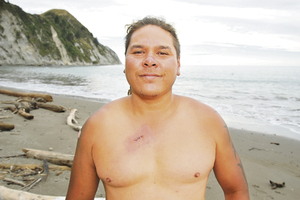 A diver who suffered a potentially fatal blow when struck in the chest by a stingray's barb is one of several people to have a close encounter so far this summer.
Allies Whakataka was snorkelling for paua in murky water around rocks at Tolaga Bay, near Gisborne, on Monday evening when he felt a thump in the chest.
The 34-year-old said the barb went in as deep as his little finger and left a 3-centimetre-wide hole that "freaked out'' hospital staff.
"I just saw the shape of the stingray then felt a bang in my chest. I felt all hot afterwards,'' Mr Whakataka said.
In other incidents, an Auckland man was stabbed in the leg by a barb as he fished of the Coromandel Peninsula yesterday.
The man, aged in his 50s, was on a boat off Hahei when the group he was with hooked the ray.
Another fisherman's leg was also stabbed by a barb on Monday in Bay of Plenty.
The man cut the barb off while it was embedded 5cm into his leg and was taken to hospital for treatment.
And on Thursday last week Peato Samele Illalio is believed to have drowned after he jumped from a jetty into the sea north of Katikati to retrieve his fishing rod when a hooked stingray dragged it into the water.
The most famous stingray death was Australian naturalist and television star Steve Irwin who died in 2006 after being struck in the chest by a barb when filming a documentary on the Great Barrier Reed.
Despite all this, stingrays are peaceful creatures that are wonderful to watch when diving, said NIWA principal scientist for fisheries Malcolm Francis.
The trick is not to get too close, as rays lash out when they feel threatened.
"They are fantastic animals. They're a bit like a cat in terms of their personality and disposition''.
Dr Francis said the increase in incidents at this time of year could be due to rays seeking warm, shallow waters at the same time as people flock to the beach and the sea.
It was unlikely there had been an increased number of stingrays coming close to shore this summer compared to previous years, he said.
Stingrays are mostly found around the North Island and top of the south, but can be reach as far south as Foveaux Straight.