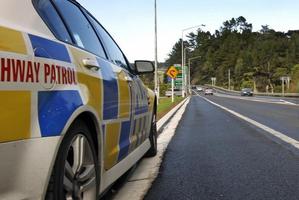 New Zealand's top road policing cop has hit out at irresponsible drivers following another holiday death on New Zealand roads.
This afternoon, police confirmed a motorcyclist who had been hurt in a crash at 12.55pm on the Taihape-Napier road today had died - taking the Christmas-New Year holiday period road toll to seven.
The motorcyclist's death comes as several others battle for survival following a horrific morning crash.
Three family members, including a six-month-old baby boy, a 12-year-old girl and a man in his 30s, are in critical condition in Hawke's Bay Hospital's Intensive Care Unit, after their van plunged down a bank this morning.
The van, which had eight occupants and was travelling south on Napier-Taupo Rd, is believed to have plunged 10 metres down a bank after the driver fell asleep.
The other five family members are also being treated in Hawke's Bay Hospital.
The holiday road toll period, which finishes tomorrow [3/01] at 6am, began at 4pm on Christmas Eve.
Last year, six people died over the nine-day period - the lowest since Transport Ministry records began in 1958-59 - as far back as Ministry of Transport records go.
Assistant Commissioner Road Policing, Dave Cliff, said all seven deaths this year were avoidable.
"They all happened because of the same old mistakes being made.
"The basic messages about slowing down, not driving when you're tired, no alcohol, making sure all the vehicle occupants are safely restrained - all these things apply,'' Mr Cliff said.
The number of people killed on the nation's roads in 2013 was the lowest since 1950 at 254 fatalities. And while December's road toll of 23 was the lowest since 1965, the number of deaths still occurring on the roads showed drivers still had a lot to learn, he said.
"What these deaths keep highlighting is that the results and the gains we are making are quite fickle. There is still lots of risks out there and people need to be incredibly vigilant and careful.''
The highest Christmas holiday road toll was in 1972-73, with 37 deaths.
****
Christmas-New Year road deaths:
* Sandy Paul Waenga Brown, 21, of Paua. Killed in a crash near Cape Reinga on Christmas Day.
* 11-month-old baby girl died after the van she was in left the road on Kapiti Coast on December 28.
* 56-year-old woman from China died after a crash on the Te Anau-Mossburn Highway on December 29.
* 4-year-old Kahui Matauwhati died after the 4-wheel-drive she was in crashed near Taumaranui on December 29.
* Lynelle Joy Bray, 46, of Hamilton killed in a collision between a car and a bus on December 30.
* 50-year-old Auckland man Gregory John Spargo died after crashing his motorbike near Bulls on New Year's Eve.
* Motorcyclist dies following crash with a car on Taihape-Napier Rd today.
- APNZ