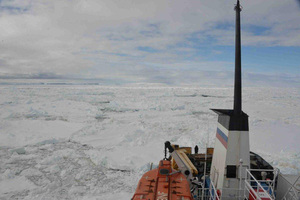 Passengers aboard the Akademik Shokalskiy are now being evacuated from the research ship that has been stuck in Antarctic sea ice for more than a week.
Expedition leader, Australian professor Chris Turney, tweeted shortly before 7pm today: "The Chinese helicopter has arrived @ the Shokalskiy. It's 100% we're off! A huge thanks to all."
Earlier today, the Australian Maritime Safety Authority announced that the evacuation was expected to be delayed, but now the helicopter from Chinese ice breaker Xue Long has arrived to chopper out the 52 stricken passengers, including six New Zealanders.
They would be taken back to the Chinese ship, also known as the Snow Dragon, which had also become trapped in ice.
AP reported that the evacuation was expected to take about five hours, with a dozen people at a time choppered away from the Akademik Shokalskiy.
Its crew of 22 were expected to stay with the vessel, which was not in danger.
The passengers were to be flown 11 kilometres to the Chinese ship, from where they would be transported 4km by barge to an Australian icebreaker. They were then expected to travel to Tasmania, arriving by mid-January.
The Akademik Shokalskiy left New Zealand on November 28 and got stuck on Christmas Eve 2,700km south of Hobart, Tasmania.
The scientific team on board had been recreating Australian explorer Douglas Mawson's 1911 to 1913 voyage to Antarctica.
- APNZ