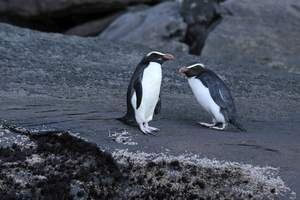 The Department of Conservation has put volunteers on a remote South Westland beach after crowds started turning up to view the penguins.
It is thought the internet has helped spread word that Monro Beach, about 30km north of Haast, is a nesting ground for Fiordland crested penguins.
A DOC manager was alarmed recently to spot tourists hopping around a rock, "trying to take a picture with a phone".
The penguins out to sea were too scared to come in, and those in the scrub were too scared to go to sea to feed, conservation services manager Wayne Costello, of Franz Josef Glacier, said.
The international volunteers, some of whom came to work on the West Coast kiwi programmes, were on the beach doing crowd control until early December, when the chicks fledged.
"The other day, the parking area was completely chocka," Mr Costello said.
As well as campervans, a bus was seen backing in, and staff at the Haast information centre were constantly asked, "where do we see the penguins?"
"However, people get carried away, they get too close. The birds are going back and forwards to sea at this time of year," Mr Costello said.
Lake Moeraki Wilderness Lodge owner Gerry McSweeney said that for the past 22 years his guests had been taken to another beach location.
"We sit silently at a 'hide' site and the penguins happily groom and parade in front of us. We welcome the regular patrols by DOC volunteers at Monro Beach," Dr McSweeney said.
The Fiordland crested penguin, or tawaki, is one of the rarest of New Zealand's mainland penguins. The current population is between 2500 and 3000 breeding pairs and has been in decline since the 1950s.
- The Greymouth Star