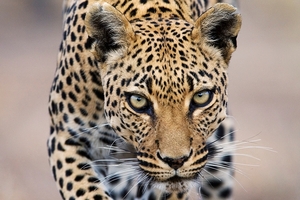 Lying flat on the dirt in a Namibian desert, Stephen Belcher was just 30m away from a hunting leopard.
The New Zealand wildlife photographer wanted a "prey's perspective" of the African predator and as it turned towards him, he snapped an award-winning photograph.
"I wanted to get a shot that showed the leopard (as) what the prey would see, to be at eye-level with a leopard. That's lying down, flat on the ground, to get that effect," he told the Herald.
"When the leopard came down from a tree and then took a few steps, it turned towards me briefly and that's how I got that shot."
The image won first place in the mammals section of esteemed French photo competition the Melvita Nature Images Awards. It was also selected as the cover image for wildlife magazine Terre Sauvage.
"The leopard wasn't too hungry, more inquisitive I think. The main reason it came towards me was it was inquisitive to see what was on the ground. I just took those shots and then got back in my vehicle," he said.
Belcher, who divides his time between Christchurch and Wiesbaden, Germany, won close to $1350 for the shot, and will attend the awards ceremony in Paris next year.
His previous works have appeared in international and New Zealand publications including BBC Earth, Science Illustrated, BBC Wildlife and BBC Knowledge.
He won the Nature's Best Ocean View Photography Awards in 2009 and 2010 and has been highly commended for the BBC Wildlife Photographer of the Year and New Zealand Geographic Photographer of the Year, among other accolades.
The trick to taking photos of wild animals was to respect them, said Belcher, who has a background as a veterinarian.