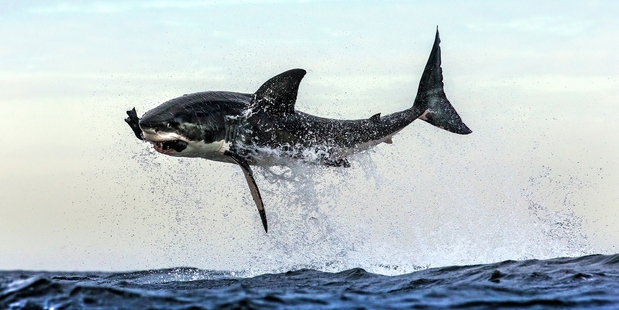 Lying on the floor of a research boat off the coast of South Africa in treacherous waters, New Zealand photographer Chris McLennan knew he had to stay focused.
He knew that if it happened, and only if, he had a tenth of a second to get his shot. Seconds later, it was all over - and he had succeeded.
The photographer had nailed, as he calls it, the "holy grail" of shark photos. Great whites thrusting out of the water to savage their prey are rarely captured on camera.
"The odds are against you," he said.
"I was running a photographic workshop in South Africa. We'd had about 10 days on safari shooting great white sharks and whales near Seal Island off the Cape Town coast," McLennan told the Herald.
"It's a unique spot. It's the only place in the world where great white sharks breach like this. It's also one of the roughest stretches of water in the world."
The day McLennan took the shots of the 4-5 metre great white, he was on a boat with researchers who find out why the sharks leap out of the water in that area.
"It was a crystal-clear, blue-sky day. In the first hour after sunrise, we got 27 natural breaches, which was phenomenal," he said.
The crew then used a decoy seal, towing it behind the boat to force further breaches, and recorded the sharks' behaviour.
"I was lying down on the floor of the boat, flat on the floor, just staying focused on the water waiting for something to happen. Then it happened so fast ... It was like being in a sci-fi movie."
McLennan, who was thrilled with the shot, is based in northwest Auckland, and specialises in travel, wildlife, tourism and adventure photography. He runs photo tours allowing aspiring snappers to join him on "photographic adventures".