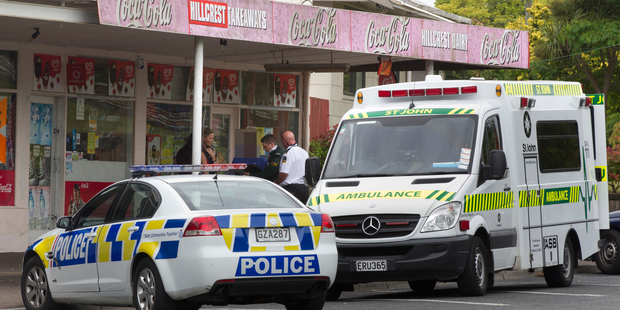 A man is on the run after a Rotorua dairy owner was assaulted during a Christmas morning attempted robbery.
The woman was alone in the Hillcrest Dairy on Jervis St when a man came in about 10.45am demanding money and cigarettes. His face was disguised with only his eyes visible, the woman's husband said.
The husband said his wife had called him about 10 minutes before the incident asking him to go in as she was concerned about being there alone when the street was so quiet.
They had planned to just be open for three or four hours over lunchtime so people could get essentials, he said.
He said the man came in shouting "money and rollies". He then jumped over the counter and pulled out an extendable crowbar from under his shirt, the husband said.
"He [swung it at] her four or five times."
He said the man was in the dairy about 40 seconds and left empty handed when he thought someone was coming.
The woman was shaken and was treated by ambulance staff at the scene for minor injuries, her husband said.
Witness Ben Connor said he and his family were driving past the dairy when they saw a man run out and jump into a car.
"He had a crowbar, his whole face was wrapped up," he said.
They followed the vehicle as far as Pukehangi before they lost it, then returned to the dairy to check on the woman.
"It's just not good," he said. "What a ratsh*t Christmas Day [for her]."
Rotorua police said the offender drove a blue Subaru registration CQD 321 at speed from the dairy down Huia St, turned right into Devon St then turned into Pukehangi Rd.
The Subaru was stolen around 11.50pm on Christmas Eve from an address in Owhata.
Following the attempted robbery the vehicle was seen at the Z Service Station on Fairy Springs Rd.
The offender is described as around 17 to 18 years old, about 1.61m to 1.64m tall, of skinny build and he was wearing a green top and black trousers.
Police would like to know the whereabouts of the Subaru, any person who has been seen in or with it or any sightings of the vehicle since it was stolen.
If you have any information contact Detective Phil Wilkinson on (07) 213 1916 or anonymously via Crimestoppers on 0800 555 111.
For more articles from this region, go to Rotorua Daily Post