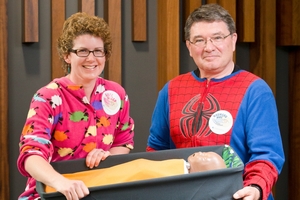 A simple device aimed at making sure babies are safe and protected while they sleep is set to help dozens of families in South Auckland.
The Middlemore Foundation is one of the recipients of this year's Auckland Airport 12 Days of Christmas awards.
The charitable trust will receive $10,000 - which it will use to buy up to 100 "pepi-pods" for babies in the Counties Manukau region.
A pepi-pod (baby-pod) is a small device made out of plastic and fitted with a mattress, bedding and a merino-wool blanket.
The pods can be placed on a bed - allowing parents to safely bed-share with their infant and prevent the possibility of suffocation.
Middlemore Hospital paediatrician Dr Adrian Trenholme said the pods were designed to help infants at high risk of SUDI (sudden unexpected death of an infant).
"I know it's a national issue and a local issue. In Counties Manukau, 10 to 12 babies die suddenly from this.
Nationally, 50 to 60 babies die suddenly each year from SUDI," he said.
"The key message is, we want the babies to sleep safe. With pepi-pods, you can bed-share and baby will still be safe. You can comfort the baby and be close to them. We really want to make sure that people understand how important it is for a baby to have its own bed."
The pepi-pods have proven popular with many families; particularly among Pasifika and Maori.
Maori babies are estimated to be five times more at risk of SUDI.
Dr Trenholme said: "In South Auckland, we're promoting safe sleep rigorously. We're going to be able to buy up to 100 pepi-pods and that's thanks to Auckland Airport. It's fantastic that they're donating money so we can help our community."
The 12 Days of Christmas project has been running for the past six years. The $120,000 was put together by Auckland Airport as well as donations made by members of the travelling public, who gave leftover currency as they left the country.
General manager of corporate affairs Charles Spillane said: "We feel privileged to be able to provide this grant to the Middlemore Foundation, assisting them in continuing the wonderful work they do within the community.
"These pepi-pods are a simple device that will help to save the lives of the most vulnerable in our community."
Auckland Airport is giving away $120,000 to New Zealand charities as part of its 12 Days of Christmas initiative this year. The Herald is profiling each of the winning charities.