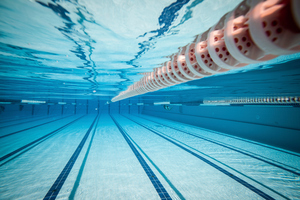 A woman who died at a public pool in Wellington this morning has been identified as 49-year-old Motuiliu Groom.
Ms Groom was aqua-jogging in the main pool at the council-owned Wellington Regional Aquatic Centre in Kilbirnie when the incident happened about 6.40am.
Efforts by lifeguards and swimmers to revive her were unsuccessful. After the incident, Wellington City Council said Ms Groom appeared to have suffered a "tragic medical problem".
"She was noticed looking like she was in difficulty, so the staff and other pool users went to her aid and offered her CPR. They were unable to revive her," council spokesman Richard MacLean said.
"By all accounts staff, other pool users, ambulance staff - everyone did their best to try and revive her but unfortunately it didn't happen."
Wellington Free Ambulance, which was alerted to the incident by a member of the public, said lifeguards used a defibrillator on Ms Groom before ambulance staff arrived.
Paramedics gave her further medical treatment, including more defibrillator treatment, but it was to no avail.
Police and the fire service also attended the incident.
Wellington police spokesman Nick Bohm said "a considerable amount of time" was spent by emergency services and the registered nurse trying to revive Ms Groom.
"At this stage there are no suspicious circumstances around the death. It looks like she has come to grief while in the water, rather than a drowning."
The pool was reopened late this morning.
Ms Groom's family have been advised of her death, and her case had been referred to the Coroner, police said.
- APNZ