The family of a suspected murder victim say police should be renewing their hunt after 27 years and that a television documentary maker may hold some keys, reports Phil Taylor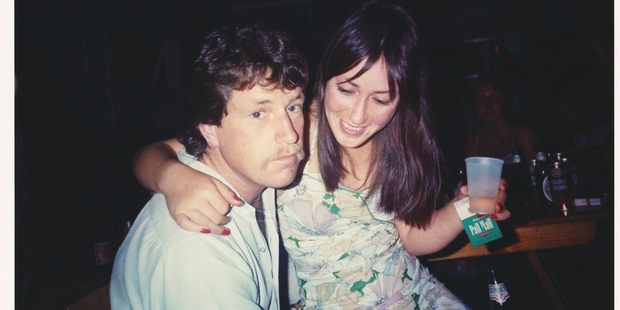 The family of suspected cold case murder victim Luana Williams want police to sit down and talk to documentary-maker Bryan Bruce, saying the current police review of her case and offer of a $50,000 reward is due to his work.
One of Williams' sisters, Melanie, told the Herald the family appreciated the work police were doing but also wanted it known that, "Bryan had got us to where we are today". The complaints to the IPCA and an affidavit containing new evidence had been important. "Without his input, his perseverance, his dedication and his support to the family through his inquiries, I really feel the police wouldn't be on the case as they are now," she said.
The Herald has learned that the family wanted to acknowledge Bruce's work in a statement from them prepared by the police and released with the announcement of the reward, but were told that doing so would "hinder" the inquiry. Melanie said she felt the police should speak to Bruce about other information he has.
Bruce has spent several years investigating the 1986 case, which featured in his June 2011 television series, The Investigator.
He provided police with an affidavit from former prison officer Janey Bowen, who approached Bruce after the programme aired, claiming that Williams told her in 1983 or 1984 while serving an 18-month sentence for selling cannabis to an undercover policeman that she was a police informant and had provided sexual favours to two detectives - one of whom she named as convicted rapist Brad Shipton, who denies the allegation - who later led the investigation into her disappearance.
The police have subsequently interviewed the prison officer and Shipton but have not contacted Bruce who has repeatedly said he has other relevant information.
"There are people - witnesses who are central - who I have subsequently found know a lot more than they have divulged," Bruce said, "these are matters that require investigation by the police rather than journalists."
The police have said they have "corresponded" with the documentary-maker to send in his information but Bruce told the Herald he is waiting for police to arrange an interview.
"I told Detective Superintendent Rod Drew I had further information to share when I tabled Janey's affidavit with him in August 2011. [Police Commissioner Peter] Marshall acknowledges this in his letter [of September that year]."
Bruce met with Inspector Tony Wakelin in February 2012 at the policeman's request but rather than an interview it was "a PR update" to inform him a review team would start on the case the next month. Bruce said he repeated to Wakelin that he had more information and has done so publicly since police announced a reward for information this month.
"I am absolutely bewildered. I don't know why [police hadn't interviewed him]. Is it about not wanting to look into their own nest, or they don't want journalists involved because they won't keep quiet?"
Bruce aid he could have made a programme based on Bowen's affidavit but instead tabled it for the police to investigate.
Bruce's documentary outlined numerous failings with the original police inquiry. He helped Williams' mother, Denise, write a complaint to the Independent Police Conduct Authority (IPCA) and also filed one of his own.
Police statements announcing the new reward indicated the current investigation was a routine review done on all major unsolved cases. However, it comes after the IPCA recommended, as a result of the complaints, that Marshall reopen the case. "The authority's present view of the police investigation," authority head at the time, Justice Lowell Goddard, wrote in April 2011, "is that there remains to be properly investigated a number of matters, hence referral back to the Commissioner of Police to have the case reopened."
After Williams disappeared the house was not treated as a crime scene despite detectives suspecting foul play, and when a nearby gully was searched three months later - by which time police had upgraded it to a homicide investigation - forensic examinations of potential exhibits, including the vehicles of possible suspects, were not done. Years later, blood from a rape victim was found in the Ford Falcon ute of one suspect, Paul Gaelic, who was subsequently convicted of sex attacks on three women.
Williams disappeared overnight in June 1986. She was visited by a friend about 6pm at the Munro St home owned by her boyfriend Stephen Prole. Prole returned from the pub about 7pm for the smoked-fish dinner Williams had prepared and then returned to the Greerton Hotel with another of his girlfriends, Linda Groom (to whom he has long been married), and a friend Ross Mischewski, who was Groom's flatmate and landlord.
According to statements, another friend of Prole's, Paul Gaelic, was at the bar. He became obnoxious and was smashing glasses. Mischewski left to go with his girlfriend to celebrate her mother's birthday, and later Prole and Groom returned to her flat where Prole spent the night before returning home at 4am to find Williams missing. Their pets and wallet were inside, warm embers were in the fireplace but the guard was not up, her glass of sherry was partly drunk, cigarette butts were in an ashtray and her packet of Pall Mall was there - unusual for the fastidiously tidy Williams. It was cold but no clothes other than the light dress she was wearing were missing.
After spending the day visiting Williams' family and friends he thought she might have gone to, Prole reported her missing.
Prole told the Herald this week he can see why he was a suspect. "Shit, yeah, and it's quite scary."
He was frustrated that nothing had changed after 27 years. An elderly friend, he said, had recently been accused by a detectives of helping Prole dump Williams' body at sea. This was someone, said Prole, who had not become a friend until years after Williams' disappearance.
He believed perception of the case had been coloured by cliches. Because he had money and flash cars as a result of his high-paying job on Middle-Eastern oil rigs and because during time off back home he would party with a cross-section of people, including some who dealt drugs, he was viewed by some with suspicion, he said. "It's a worry for me. Probably if I was guilty or had a problem [with gossip] I would have left town long ago but I started a business in this town and it's very successful."
The depiction in media of Williams as a drug dealer who had worked at a massage parlour didn't do her justice, Prole said. "Luana was no drug dealer, she wasn't smart enough or calculating enough. Luana was a lovely person, who liked everyone."
Prole is puzzled why the undercover cop had targeted Williams of all people in the Star Hotel - a pub he said was frequented by drug dealers and the Mongrel Mob - with an offer of a few thousand dollars if she could procure half a kilo of cannabis. "Of course she could. She only had to walk to the other side of the bar. Anyone with a bit more nous would have thought that this was too good to be true."
Bowen said in her affidavit that Williams had a heroin habit when she arrived in prison. Prole said that would surprise him, even though he had known Williams only a few days before she was arrested in a dawn raid when he was in bed with her. "She loved to drink and she loved to have a smoke of dope, but heroin, Jesus, that's a different class of people."
Prole is angry that Gaelic was not investigated until eight years after Williams went missing.
"He'd been my mate for six years while we were working on the oil rigs. He was with us on the night. After that night I saw him only once again before he died." He points to attacks by Gaelic on the girlfriends of some of his mates and scoffs at the theory Gaelic couldn't have murdered Williams because he didn't kill his known victims.
"How can they say there wasn't a pattern? I think there is only a pattern when you have got sober, calculated killers, not when you've got a drunken, drug-taking sexual maniac."
Though Gaelic had the propensity and the opportunity and police believed there were certain similarities between the circumstances of the violent sexual attacks on several women he was convicted of and those surrounding Williams' disappearance, the belated focus on him produced no evidence. The IPCA noted surveillance of Gaelic in May and June of 1994 and a search warrant produced nothing.
"There was a concerted effort to link Paul Gaelic to Luana's disappearance, he refused to answer questions, and in the final analysis there was no evidence," Goddard wrote.
After being released from prison, Williams went to live with Prole at 12 Munro St. Prole was away working two months out of three and Williams proved a meticulous housemate. Police described her as "houseminder-cum-housemaid-cum-bed companion".
In recent years, Prole has sought to dismiss claims they were in a serious relationship or that there had been talk of an engagement as her family insist Williams had mentioned.
He told the Herald they had an open relationship and each knew there were other partners. "This story that we were going to get married - what a load of shit. It was just all fun. I was 20-something, I was out for a good time; that was the depth of our relationship."
But he gave a different impression in a police interview four months after she vanished: "We had spoken about marriage and I told her that if things worked out then marriage would be a reality. I would marry Luana if she came back tomorrow."
A record of a visit to her doctor three days before she disappeared said she was depressed and expressed concern about being pregnant.
Prole told the Herald that when he heard news of the reward he felt like adding $50,000 of his own, "but then that could be looked at in different ways too".
Luana's World
Stephen Prole
Luana Williams' boyfriend. Says he spent the night she went missing with another woman (whom he subsequently married) and returned home about 4am to find Williams missing. He has become a wealthy businessman and still lives in Tauranga.
Paul Gaelic
Worked on oil rigs in the Middle East with Prole, a friend. He was a suspected drug dealer and was at the Greerton Hotel with Prole on the night Williams disappeared. He was responsible for a string of sex attacks, some on girlfriends of acquaintances and in 1996 was found guilty of one rape and two other sex attacks and jailed 10 years. He died of heart attack in June 2009.
Phil Seaman
Led the investigation into Williams' disappearance for several years, initially suspected Prole, then Gaelic but appears to have concluded that she committed suicide. He committed suicide in 2009 after becoming ill.
Brad Shipton
One of the main investigators of Williams' case, with Seaman. Shipton was jailed for eight and a half years in 2005 for the January 1989 pack rape of a woman at Mt Maunganui. He was acquitted of the alleged rapes of two other women. In 2011 a former Arohata prison officer came forward, claiming Williams told her she was a police informant and gave sexual favours to Shipton and Seaman. Shipton denies ever having met her.
Warren Gerbich
Took over the investigation in 1994, told Williams' family and a coroner that he suspected Gaelic abducted, raped and murdered Williams. In 2007, after he left the police, a video of a 2002 group sex session involving Gerbich, Brad Shipton and another police officer with Gerbich's future wife, Debbie, was made public. Shortly after her name was published, Debbie Gerbich committed suicide.
Dr Ronald Morgan
The police surgeon. Morgan was also Williams' doctor. Morgan was believed to have supplied her with drugs for sex. Morgan eventually admitted having sex with her but claimed he paid cash. In 1992, he was convicted of committing indecent acts on a 15-year-old girl, sentenced to six months' jail and struck off as a doctor.