Planned capital return a boon for cash-strapped mayoral projects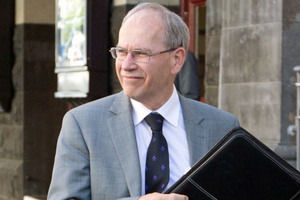 The hard-up Super City stands to receive a windfall of about $100 million from a planned $454 million capital return by Auckland International Airport.
The airport announced yesterday it would borrow to pay out shareholders. It requires at least 75 per cent of voting shareholders to proceed.
Last night, an Auckland Council spokesman said officers were considering the impact of the plan and whether to support it. Past capital pay-outs have been supported by the Auckland Council and previous councils before the Super City.
The council, which owns 22.4 per cent of the airport company, could receive a financial windfall in April, which would have a positive effect on July's 2014 budget.
It's too early to say what the money may be used for, but there's a good chance of it being spent on capital works and to ease a $610 million borrowing programme in 2014.
A mayoral spokesman said Len Brown's focus on behalf of ratepayers was prudent financial management. Mr Brown has promised to tighten the belt in his second term following widespread concern about soaring debt, hefty rates increases and a blow-out in the wages bill on the recent campaign hustings.
Under his leadership, debt has risen from $3.9 billion to $6.7 billion in his first three budgets and there is little or no money for new projects in next year's budget.
Mr Brown is a strong believer in public ownership of shareholdings in the airport and port, saying the dividends help the council invest in communities and keep rates affordable.
Mark Lister, head of private wealth research at Craigs Investment Partners, said the capital return would be good for the entire market.
"There's nothing wrong with funding your business with debt. It's a lot cheaper than equity, especially at the moment," he said.
The company will seek shareholder approval in February to cancel one in 10 shares at $3.43 each.
- Additional reporting by Grant Bradley