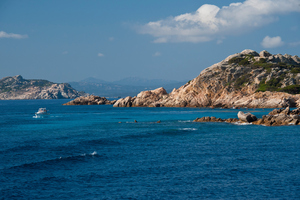 Italy wants to buy back a Mediterranean island owned by New Zealand businessman Michael Harte, who bought it just two months ago.
The 47-year-old paid $4.8 million at auction last month for the pristine Budelli Island - an Italian national park considered to be one of the most beautiful islands in the Mediterranean.
Budelli is part of the La Maddalena island group which lies between Sardinia and Corsica and is renowned for its "pink'' beach at the southeastern part of the island.
Mr Harte, the chief information officer for Australia's Commonwealth Bank, said he liked the idea of being involved with a conservation project in Europe.
But Italy's Senate has now passed a special dispensation which would allow the state to buy back the island, The Guardian reported.
The Government has until January 8, 90 days after the island was sold at auction, to decide whether to claim Budelli back for its original asking price under a deal in which Mr Harte would be reimbursed.
"The island of Budelli could finally return to public ownership... to our immense satisfaction,'' said a statement from a group of MPs from SEL, a Left-wing party, which had pushed for the island to be reclaimed.
Alfonso Pecoraro Scanio, a former environment minister who had collected 85,000 signatures for a petition protesting the sale of the island, said: "This is a first victory.''
After Mr Harte bought the island, he told APNZ his "first and most important objective'' was to preserve the ecology of both the land-based and the marine-based flora and fauna.
"There are so many parts of the world that are being exploited that there's few opportunities to take a practical and deliberate step to help protect some of these very fragile environments.''
Mr Harte said he was in discussions with the Italian Government to establish he was "bona fide'' as someone who would protect the environment.
"Hopefully they see that a private person can be as responsible as a public institution - and I'll protect it in the same way that the national park ideals were set up.''
Budelli is an unspoilt island of 1.6sq km where construction is banned and access is permitted only accompanied by staff from the park's authority.
- APNZ