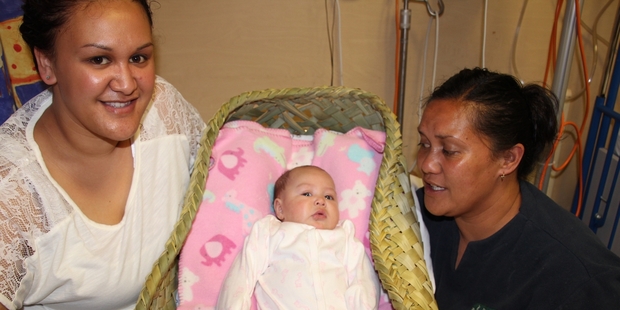 A Whangarei mum is urging pregnant women to get a whooping cough vaccination after her baby daughter developed the potentially deadly disease shortly after birth and spent her first nine weeks in hospital.
Northland's whooping cough rate this year is almost double the national average and the third highest in the country, with 146 cases reported to the end of October (31 per 100,000) compared to 82 for the whole of 2012 and almost twice the 16.7 cases per 100,000 nationally.
But health officials think the rate could be far higher with estimates that for every case reported there could be 80-100 cases not notified.
Babies aged under 12 months are most at risk from serious illness or death from whooping cough, as a Whangarei mother recently found out.
Mere Anderson's daughter Tewaimaria Pii Hoari developed whooping cough after being born with a lung infection.
When Tewaimaria stopped breathing she spent much of her first nine weeks in hospital. Ms Anderson said she didn't know she could be immunised for the condition while pregnant. Many pregnant women are unaware of the vaccines available to them and their babies, she said.
Ms Anderson said while she had intended to get her baby immunised, Tewaimaria developed the condition before she could do so. The little girl has now been immunised and is recovering.
The whanau has also gone to great lengths to commit to a healthier lifestyle for the new addition, with Ms Anderson giving up smoking and persevering with breast feeding, despite Tewaimaria having a high palate.
Tewaimaria also sleeps in a wahakura (flax-woven basket) to lower the risk of sudden infant death which increases with babies who share beds with adults.
"After she stopped breathing at home, reality hit in the back of the ambulance. But I think we're over the worst and we're looking forward to going home," Ms Anderson said. "It's important to be immunised. She's [Tewaimaria] too precious to us for anything to happen."
Whooping cough outbreaks occur in New Zealand every three to five years, partly as a result of historically low immunisation coverage.
It is a highly-infectious bacterial infection spread by sneezing and coughing.
Northland District Health Board Medical Officer of Health Clair Mills said whooping cough posed serious risks to newborn babies and young infants.
"Fifteen per cent of all notified cases of whooping cough in Northland this year ended up in hospital, but for babies under the age of 1, this was 75 per cent - three in every four of those babies affected," she said.
"This is because when babies get whooping cough, they often turn blue or stop breathing because of the coughing, and have trouble feeding. There is really no treatment and some end up on respirators or die."
Dr Mills said there were probably 80-100 cases of whooping cough in the community for every one case that was notified, as many people with coughs would not see a doctor or get tested. "The best thing to do is get a booster vaccination in the last part of pregnancy."
For more articles from this region, go to Northern Advocate