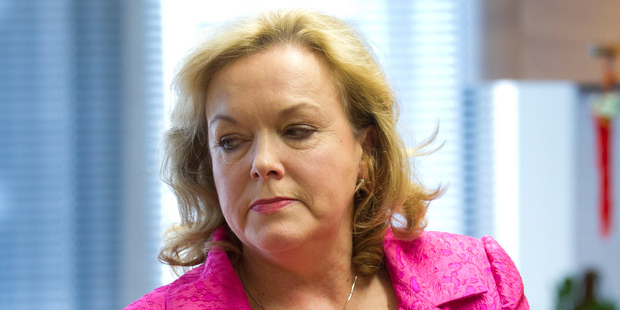 Long-service leave for District Court judges has increased from 65 days every five years to 100 days, the Herald can reveal.
The entitlement took effect in September and was negotiated in 2008 - but has only just come to light.
It was part of a package of conditions negotiated with Labour's Attorney-General, Sir Michael Cullen, Chief District Court Judge Jan-Marie Doogue said last night.
It means a judge can take five consecutive months' leave every five years, in addition to seven weeks of annual leave.
Justice Minister Judith Collins came across the entitlement as part of her work to increase the efficiency of the court system.
In general, District Court judges with more than five years' service are available to sit for only 158 days of the year after deductions are made for weekends, statutory holidays, annual and long-service leave, days for writing judgments, and non-sitting activities such as attending conferences.
Family Court judges with more than five years' service are available for only 141 sitting days.
"It does clearly put some stress on the court process," Ms Collins said.
"What's going on here clearly needs to be taken into account when we are looking at trying to get cases heard in a timely manner."
Asked about the conditions of judges, she said: "I think that they are generous terms of service but given the separation of powers [between the Government and the judiciary], that is not something I would want to go into detail on and comment on, other than [to say] they are generous."
Sir Michael Cullen said he had little recollection of approving the long-service upgrade. But he said it would have taken account of increased stress of the job and it allowed judges to catch up on what was going on in the legal world, in the same way as academics took sabbatical leave.
Ms Collins is writing to Finance Minister Bill English seeking an investigation by the Productivity Commission into the courts system.
The caseload in some courts is declining, she said, but there is no commensurate reduction in clearance of cases. "So it is a mystery to me as to why we can't be much faster in our courts ... It does not make sense that we have the same number of judges as we did back in 2008 and yet we are not getting the productivity that we would expect out of the courts.
"I think it is important that we look at the Legal Services, the judicial services, the court staff and what services they've got and what they provide, but it is not credible to simply say the answer always has to be more judges when we have substantial reductions in the volumes of work going into the courts."
Ms Collins is also close to getting Cabinet sign-off for a major reform of the court system, including measures that will allow greater use of electronic records, and will require heads of bench for different courts (such as, Environment, Employment, District, High) to set targets for delivery of judgments and giving the public access to information on the progress of reserve judgments.
If the Cabinet signs it off today, the bill could be introduced this week.
Chief judge explains the background
Chief District Court Judge Jan-Marie Doogue says the new terms and conditions were settled in 2009 after several years of assessment and negotiation involving former Chief Judge Russell Johnson, the former Attorney-General Michael Cullen and the former Solicitor-General David Collins (now a High Court judge).
The terms and conditions "aim to bring the District Court closer in line with the High Court, and in line with similar international jurisdictions. The agreement between them was also in recognition of increased jurisdiction, and complexities assumed by the District Court over time," she said.
"When these new terms were concluded, it was identified that there would be the necessity for additional judicial resource.
"Since I assumed the role of Chief District Court Judge, I have ... been in constructive discussions with the current Attorney General [Chris Finlayson] to ensure that we can service the community's justice needs, without undue delays."
She and Mr Finlayson had agreed for acting warranted judges "to cover off a substantial amount of the long leave owing to judges in 2014", Judge Doogue said.
"District Court judges ... are extremely conscious of the importance of ensuring access to justice to all New Zealanders.
"I'm absolutely dedicated to ensuring all our District Court judges provide the best possible expertise as they daily deal with a profound volume of cases ..."
* An earlier version of this story incorrectly said that the current Attorney General Chris Finlayson had signed the agreement in 2009, based on incorrect information supplied by the Chief District Court Judge.